SpaceX Is Investigating a Rocket Engine Explosion at its Texas Facility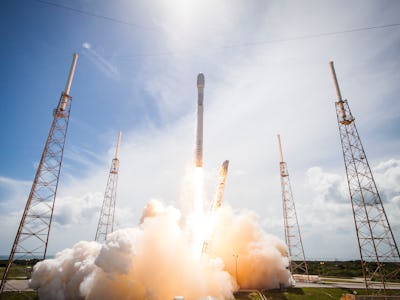 Flickr / Official SpaceX Photos
On Sunday, a SpaceX Merlin engine exploded during a test, The Washington Post reports. A representative from the aerospace company has confirmed to Inverse that the "malfunction" occurred earlier this week at SpaceX's rocket facility in McGregor, Texas.
"On Sunday, November 4, SpaceX experienced an anomaly during a qualification test set up of a Merlin engine at our rocket development facility in McGregor, Texas," the rep from SpaceX tells Inverse via e-mail. "No one was injured and all safety protocols were followed during the time of this incident. We are now conducting a thorough and transparent investigation of the root cause. SpaceX is committed to our current manifest and we do not expect this to have any impact on our launch cadence." As of noon Eastern on Monday, Elon Musk has not publicly commented on the ordeal.
So far, 2017 has probably been SpaceX's best year ever. Just last month, SpaceX successfully launched its 16th rocket of 2017. While it's still too early to tell how this malfunction will impact SpaceX's timeline for the rest of the year, it really couldn't have come at a worse time. After all, it's only been a little over a year since a Falon 9 rocket exploded on a launch pad during a prelaunch test at Cape Canaveral.
While there's never a good time for a rocket to explode, there's only a few months in the year left for SpaceX to reach its 2017 goals, and this malfunction could complicate the company's plans. As The Washington Post reports, SpaceX is scheduled to launch its Falcon 9 rocket at least three more times this year, all of which are powered by nine Merlin engines on the first stage. So yeah, who knows what the future holds at this point.
If you liked this article, check out this video on how Elon Musk became so popular.