Jupiter Is Flexing Way Too Hard in These Absurdly Beautiful New Images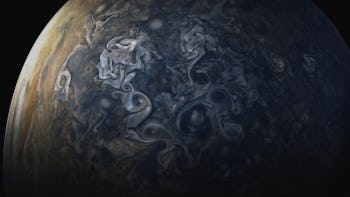 NASA / SwRI / MSSS / Gerald Eichstädt / Seán Doran'
The most annoying thing about Jupiter is that it's perfect — and it's fully aware. Its a cartoonish idea of what a planet should look like, and yet somehow, it's totally real. A series of images, carefully enhanced after Juno's most recent flyby, show the planet at its most hypnotic — and horrifying. To everyone looking for a new lock screen background: you're welcome.
On Tuesday, October 24, NASA's Juno spacecraft completed its eighth science flyby over Jupiter's cloud tops. The raw JunoCam images, released Monday, were then quickly enhanced by artist Seán Doran, who tells Inverse it took about five hours to "create this first pass" on all 20 JunoCam images. That's extremely impressive, especially considering how detailed the results are.
"It used to take a lot longer but I've streamlined a lot of the tasks necessary to get to the final image," he tells Inverse. "I use Photoshop for stills and video sequences [and] After Effects to compile and process animations."
Though Doran is one of the most prolific members of JunoCam community — the network of artists who enhance these images — he says there's something special about this new crop of pictures. They're a little unsettling, in a (mostly) good way.
"These images of Jupiter are not only awe-inspiring but also a little frightening," Doran says. "The environment is so hostile and yet beautiful to behold. Our brains are not really wired to comprehend the vast expanses revealed with these intimate portraits returned by Juno — we need to abstract them."
Even though Jupiter is literally incapable of being humble and is therefore a terrible friend, it's still mostly a good planet. At least it's not Mercury, which is something we can all be thankfully for.