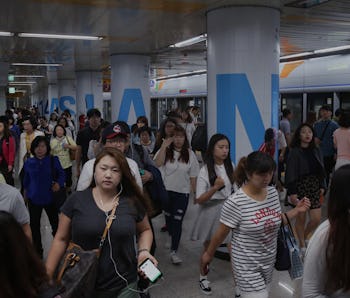 Culture
South Korea Is Trying to Fight Hidden Camera Porn With a Shocking Strategy
They're calling it "shock therapy."
Getty Images / Chung Sung-Jun
Police in South Korea have found a unique way to fight a rise in sex crimes that use hidden cameras, by relying on "shock therapy" videos to deter voyeurs.
South Korea has long dealt with a multitude of criminal voyeurism, Korea Bizwire reports. This usually involves men using hidden cameras to conspicuously and illegally record women in dressing rooms and public bathrooms, or just generally attempting to catch them in various states of undress. The videos are then often posted on pornography websites and widely viewed. So far, little has worked to deter these crimes.
The shock therapy solution now being touted by the Korean National Police Agency isn't quite the same as what's used on Jack Nicholson in One Flew Over the Cuckoo's Nest.
In October, the police uploaded their own video on these porn websites that shows a woman changing in a fitting room, resembling much of the hidden camera footage that's posted. However there's one small difference: when the camera pans back over the wall of the changing room, the viewer is surprised with a startling close-up of a girl who looks freakishly like the one in The Ring.
A message in Korean then flashes across the screen, that an article from The Korea Times translates to: "You may be the one who is pushing her to suicide." The video then warns viewers that police are monitoring their website activity.
The video would for sure scare the s**t out of a viewer who's expecting to see some hidden camera porn. Police say this "shock therapy" strategy has garnered positive feedback and has been downloaded more than 26,000 times, according to the Korea Times.
It's the latest feature in what South Korean officials call the "Stop Dowloadkill" campaign, orchestrated to raise awareness about just how prevalent these voyeuristic sex offenses are.
The number of reports of sex crimes involving hidden cameras has risen more than 200 percent each year over the last five years, Korea Bizwire reported. While there were 517 reports in 2006 of this type of crime, the number of reports rose to 7,730 in 2015, according to police data obtained by Korea Times.
The punishment for this type of crime is up to five years in prison or a fine up to 10 million won — around $8,800 in the U.S, Korea Times says. As current regulations seem to not deter criminals from recording videos, officials and activists say told Korea Bizwire they're pushing new legislation that targets manufacturing and selling of hidden cameras, and requires steeper sentences for convicted sex offenders.
If you liked this article, check out this video on five steamy porn facts.