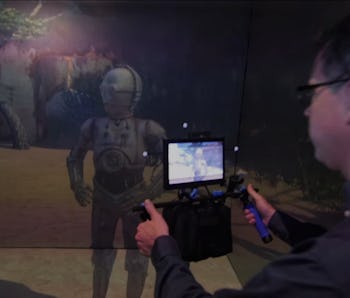 Entertainment
Industrial Light & Magic Will Fly You to Virtual Reality Tatooine 
Thousands of geeks suddenly cried out in pleasure.
www.YouTube.com
Lucasfilm has announced that the effects experts at ILMxLab, a new department that gathers the geniuses from Industrial Light & Magic and Skywalker Sound together to develop immersive virtual reality storytelling experiences, are being let loose in the Star Wars universe. The elite squad has already started to develop environments based on your favorite films, which means that a visit to Old Ben Kenobi's homestead might be possible fairly soon.
Nothing specific was announced so we don't yet know which planets or planet-sized ships are being rendered, but ILM promises to roll something out later this year.
Lucasfilm president Kathleen Kennedy told Variety, "We are currently exploring the fictional universes of Star Wars, and I think a lot of people would like to be immersed in them," and went on to say, "The challenge of ILMxLab will be to find out what storytelling looks like in this new space."
What most Star Wars fans hope Kennedy means is that you'll be able to bullseye womp rats on Tatooine, co-pilot the Millennium Falcon into battle, or blow up the Death Star in your very own X-Wing. The video also shows the folks at ILM messing around with a virtual reality velociraptor, so hopefully this means you'll be able to take a virtual trip to Jurassic World as well.
According to the announcement, the lab will explore virtual and augmented reality, but also expand this idea into real-time cinema experiences. The excitement around this will not be virtual.