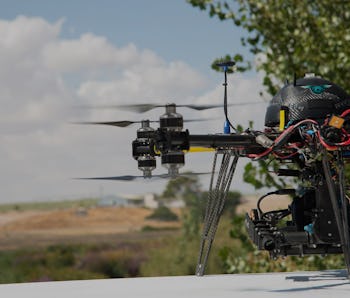 Innovation
This Year's U.S. Open Is All About the Drones
Golf matters again, thanks to drones. 
Flickr.com/BoldContentVideo
The U.S. Open is coming to Chambers Bay, Washington, on June 18, which is the sort of information we wouldn't normally have on hand, but what makes the 115th iteration of this shaft-swinging contest a bit more intriguing is its technological boost. Here's all the tech that's fit for Fox Sports golf coverage, via a press release that didn't skimp on the caps lock: "VIRTUAL REALITY, AERIAL DRONES, 4K CAMERAS and a gyro-stabilized, 20-mph RC CAMERA CAR."
Fox Sports is trying to make the future of broadcasting happen and they're trying to make it happen this weekend.
The gizmo that offers the most promise of reinventing sports coverage is the drone.  Not stuck on the ground — and with a more adaptable path than a camera traveling along a wire or track — drones offer heretofore new and, theoretically, exciting vantage points. To achieve that perfect mise-en-drone, the only thing missing is a thin layer of augmented reality displaying the arc or distance of a golf shot. 
You can already spot drones overhead at college graduations, concerts — get well soon, Enrique Iglesias! — and some competetive venues, too: The devices made their Olympic debut last year in Sochi, on the snowboard and ski slopes. 
But the flight path to victory over United States major sports arenas could be a little more turbulent than it was in Russia. Drones crash, as is the nature of flying machines. The advantage of the Open is that drones can steer a bit more clear of the action: Golf benefits more from a sweeping, eagle's eye view than say, football — and the trajectory of a golf ball is more predictable than that of a baseball. Plus, there's not a coliseum filled with noggins to land on. 
As drone tech improves (think: smart sensors) crashing will be less of an obstacle. But there's still the Federal Aviation Administration to consider. In September, U.S. Transportation Secretary Anthony Foxx declared that six video companies were exempt from the standard FAA regulations regarding flight. Among these were HeliVideo Productions — the company that's in charge of the US Open drone footage.
The conditions of drones flying above the law? Unmanned vehicles must "stay within line of sight at all times and restrict flights to the 'sterile area' on the set," the announcement read."In granting the exemption, FAA accepted these safety conditions, adding an inspection of the aircraft before each flight, and prohibiting operations at night." 
There's more at stake at Chambers Bay than whoever walks away with the giant cup-o-golf thing. If it is, in fact, "the Super Bowl of golf," as HeliVideo founder Eric Austin told GeekWire, you can imagine that comparison was deliberate — there's no doubt drone operators are eyeing the biggest of the Big Games, too.