Papa John's Pizza Is Getting Rightfully Roasted by Its Arch Nemeses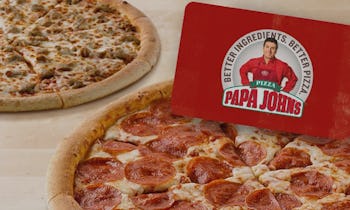 Papa John's
On Wednesday, Papa John's International Inc. founder John Schnatter — whose real name is shockingly not "Papa John" — gave reporters a terrible excuse for the decline in his pizza empire's sales. Instead of considering the quality of the company's pizza, Schnatter inexplicably pointed a finger at the NFL, condemning it for not shutting down the #TakeAKnee protests. But now, Papa John's main competitors are firing back in a stunning display of Online Brands Engaging With Each Other.
"The NFL has hurt us by not resolving the current debacle to the players' and owners' satisfaction," Schnatter said during a post-earnings conference call, according to Bloomberg. "NFL leadership has hurt Papa John's shareholders."
Papa Johns is a corporate sponsor of the NFL.
In our capitalist hellscape, brands are constantly vying for youth validation on Twitter. So with this latest news from Papa John's, DiGiorno was quick to fire back:
The brand then followed up with a direct attack on Papa John's venerated motto, "Better ingredients, better pizza."
While DiGiorno didn't respond to Inverse's request for comment, it did post an update to its earlier thread:
It seems Pizza Hut has also taken aim at Papa John's, albeit not on social media. On a conference call Thursday, a representative from the brand said it's "not seeing any impact" from NFL player protests, and that in fact, it's experiencing its "fifth consecutive quarter of positive same-store sales growth," Bloomberg reports.
Hopefully, this most righteous roasting will serve as a teaching moment for Papa John's: protests that raise awareness about racial inequality don't lead to shitty pizza sales — shitty pizza does.