Here's Why Instagram Stories are Suddenly Taking Over Users' Feed
Now with even more Stories.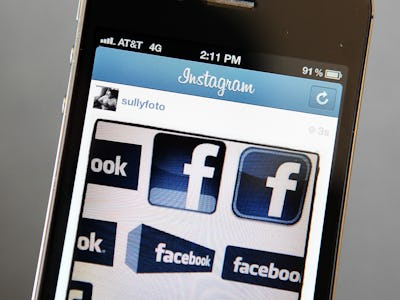 Getty Images / Justin Sullivan
Instagram Stories just got bigger. Literally.
The photo-sharing platform recently rolled out its newest version of Stories, which now include previews. The Stories section also appears throughout your feed as you scroll, reminding you to click on your crush's Stranger Things binge night.
"We recently updated the design of the stories bar that you see while scrolling through feed," an Instagram spokesperson told Inverse by email. "This update makes it easier to preview the stories from the people and accounts you care about."
The move suggests Stories' huge and still growing popularity. It's also Instagram's latest effort to get users on board with an algorithmically optimized ordering of posts.
Ever since Instagram began utilizing a non-chronologically ordered feed, longtime users have had a hard time adjusting to the algorithmic changes.
The Stories you see first — at the top of your feed — are from people who you're most likely to interact with, the company told us. This includes friends and people you engage with "often" on Instagram.
The algorithm itself, like its parent company's Facebook, is a mystery to users. The company said it uses a variety of data signals, including the likelihood you'll be interested in the content and the timeliness of the stories, to rank Stories.
If human instinct is any indication, seeing Stories pop up in the middle of your feed will more than likely have you clicking.
And that's exactly Instagram's goal.