'Stranger Things 2' Broke a Huge Social Media Record This Weekend
'Stranger Things' is kind of a big deal.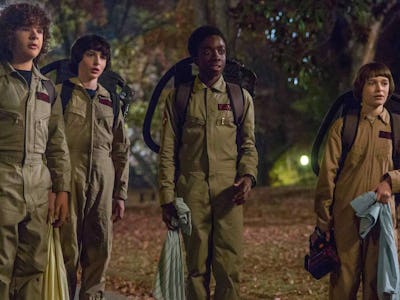 Netflix
People were relatively slow to catch onto Stranger Things when it premiered on Netflix in 2016, but no one made that mistake with Season 2. In the three days following Stranger Things 2's premiere, the Duffer Brothers' hit series broke a major Twitter record.
As reported by Variety on Monday based on data provided by Twitter, Stranger Things has officially become the most-tweeted-about streaming show over an opening weekend in 2017.
According to the report, between Season 2's premiere at 3 a.m. Eastern on October 27 and Monday, Twitter users tweeted more than 3.7 million times about the show. The time when people were tweeting about the show the most was, oddly enough, between 11 a.m. and Noon on Friday, which means a lot of you were either tweeting about the show at work, or skipping out on your responsibilities entirely.
Even when pitted against other huge Netflix premieres this year, Stranger Things' Twitter takeover is impressive.
As reported by Forbes, which published data from tech company Influential in an article Monday, House of Cards received 52,458 mentions on Twitter and people tweeted about Orange Is the New Black 105,753 times within 48 hours of both shows' Season 5 premieres. It should be noted that Orange Is the New Black Season 5 debuted on a Friday (June 9), just like Stranger Things 2, but House of Cards dropped on May 30, a Tuesday, which might have put it at a disadvantage.
Nonetheless, Stranger Things 2 garnered a monstrous 1,043,257 Twitter mentions within 48 hours.
That's a lot of Stranger Things fans talking about Stranger Things, and an indication of how big the popularity divide is between the show and other Netflix heavy hitters. Or, just maybe, it also indicates a cultural or generational divide between Stranger Things fans and fans of other Netflix shows.
Stranger Things Season 2 is now available to stream on Netflix, though it seems like most of you guys have probably already checked it out or are talking about it online.