Is Google's Burger Emoji Really a Culinary Disaster? We Asked Chefs
Everyone agrees: cheese over meat.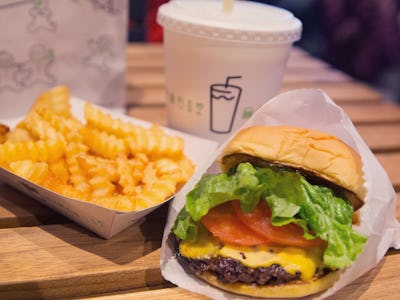 Getty Images / Scott Olson
Bet you didn't think you'd wake up to a food emoji controversy, but here we are. In a month filled with scandalous breaking news, a debate over burger emojis has erupted on Twitter.
"I think we need to have a discussion about how Google's burger emoji is placing the cheese underneath the burger, while Apple puts it on top," author Thomas Baekdal tweeted, comparing the order of the toppings of Apple and Google's cheeseburger emojis.
The consensus among techies is that Google is committing a serious dining faux pas by putting the virtual cheese beneath the burger. But to gauge how big a blunder this really is, Inverse spoke to professional chefs to find out how essential cheese placement really is.
Chef Adam Biderman of New Orleans' The Company Burger, who's known for never serving ketchup at his restaurant, gave Inverse the lowdown on proper burger assembly.
"Cheese always goes on top of the burger patty," he said. "Obviously."
Similarly, Shake Shack's Culinary Director Mark Rosati stressed the "correct" patty and cheese order to Inverse.
"In the world of Shake Shack, it's lettuce, tomato, cheese, patty & then bun reign supreme," he said in an email, taking the opportunity to address Google's CEO directly. "Sundar Pichai, we're counting on you!"
Indeed, the burger brouhaha got the attention of Google head Pichai.
Shake Shack is taking their stance seriously, going as far as quote tweeting Pichai with a plea for a corrected burger.
There you have it. The culinary world seems to agree on cheese-on-top-of-meat patty.
Your move, Google.
If you liked this article, check out this video of "Flippy," the burger flipping robot.