Puerto Rico Governor Questions Sketchy Nature of Whitefish Energy Deal
The power restoration deal has been mired in controversy since it was announced.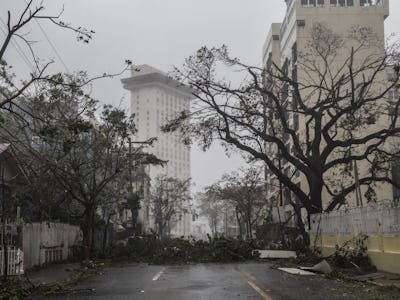 Getty Images / Alex Wroblewski
Hurricane Maria devastated Puerto Rico when it made landfall on September 20, 2017 as a Category 4 storm. The deadly storm has officially killed 51 people, but ABC News notes that an additional 900-plus cremations have taken place since the hurricane hit the island. We may never know the true death toll.
The storm also destroyed Puerto Rico's electric grid. Earlier this week, the Trump administration quietly awarded a $300 million contract to a small electric company called Whitefish Energy to restore the island's power. The company is located in Whitefish, Montana, which is the hometown of Secretary of the Interior, Ryan Zinke. Zinke previously served as Montana's sole House Representative before being confirmed as Secretary.
The deal has been mired in controversy since it was announced. On October 27, the Federal Emergency Management Authority (FEMA) said it had "significant concerns" about the deal. On Sunday, the governor of Puerto Rico, Ricardo Rosselló, has asked for the contract to be terminated, reports the New York Times..
"There can be no distraction that alters the commitment to repair the power grid as quickly as possible," the governor said in a statement.
There are several questionable aspects of the deal, like the fact that Zinke's son briefly worked for Whitefish Energy. There was also no public request for proposal bids — the $300 million deal reportedly came together with a phone call. "All I can say is, we took the call and we're here," CEO Andy Techmaksi said to CNN.. It is unclear who initiated the "call." Whitefish Energy reportedly had just two full-time employees prior to the restoration deal.
Rosselló does not have the power to terminate the contract by executive order — he made the request to the board of the Puerto Rican Electric Power Authority, who entered into the contract with Whitefish Energy. The governor also added that he has requested assistance from Florida and New York in the form of brigades and equipment.