How Twitter Will Use A.I. on 'Every Single Tweet' in the Timeline
Jack Dorsey wants to use deep learning to change your feed.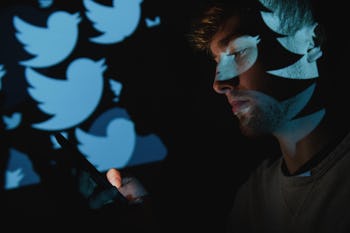 Getty Images / Leon Neal
Twitter is going to use artificial intelligence and machine learning to categorize "every single tweet," CEO Jack Dorsey told investors during the company's earnings call on Thursday. In the future, Twitter wants to bring content to the top that it thinks people are going to care about most, hinting that the existing chronological timeline could see further adjustments.
"We're playing a lot with better matching people with their topics and interests, what they care about within this," Dorsey said in response to a question from Colin Sebastian, a Robert W. Baird senior analyst.
Sebastian praised the platform for providing information about the recent California wildfires, before asking for more information about the app's "Explore" tab. This is one of the ways Twitter has started sorting tweets based on what it thinks users care about. In August it started grouping tweets based on topic, pushing those up to the top it thinks you'll be most interested in.
Later in the call, in response to a question from Rich Greenfield, analyst from BTIG, Dorsey explained how further A.I. usage would work in detail:
In terms of video discovery, the way we're thinking about this is just adding more personalization across the board to Twitter. Our biggest efforts are really applying machine learning and deep learning to every single tweet. Some tweets carry text, some tweets carry images, some tweets carry video, and wanna make sure that if we infer or you explicitly tell us you're interested in something, that we're delivering the right media format for you at the right time. Sometimes that is text, sometimes that is an image, sometimes that is video.
Twitter, which has slowly moved away from the chronological timeline in favor of a Facebook-like algorithmic feed, may bring these changes to other aspects of the app.
"We wanna make sure that this blends into your timeline, so people don't have to do any work to find what matters to them," Dorsey said.
But similar changes have received a big backlash from users. The "While you were away" feature, which groups tweets near the top that Twitter thinks you may want to see, has received a less-than-stellar reception:
This might just be the beginning.