Uber's New Credit Card is its Latest Step in Being More than Ride-Share
Might as well get cash back for rides.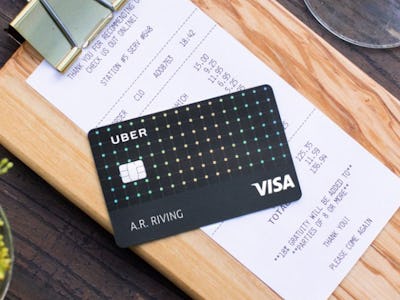 Uber
Get ready to charge up your Uber credit card.
The ride-sharing app is positioning itself to be seen as more than just that. With countless programs being piloted and tested daily, Uber is on its way to becoming less of a cab-hailing app and more of a transportation and entertainment platform.
Case in point: the new Uber Visa Card.. Uber announced Wednesday at Money2020 conference in Las Vegas that it's partnering with Visa and Barclays to offer its own branded credit card, complete with a full-fledged rewards system.
Since its launch in 2011, Uber has released features to complement its signature Uber X, its original cab hailing service. It's also worth noting that Uber's first foray into cash back, as it's already been offering Uber Instant Pay in certain markets, along with its Visa Local Offers rewards program.
The Useful Bunch
UberPool first launched in August of 2014 in San Francisco and has since been added to most major markets. It's since tried a bunch of different spin-off services, some of which have succeeded.
UberEATS and UberRUSH are the company's answer to the on-demand delivery craze. UberEATS has been implemented to satisfy your fast food craving while UberRUSH is their package delivery service.
UberACCESS was added after Uber's faced lawsuits and criticism for its lack of accommodation to people with disabilities.
The Novelty Ubers
Uber started offering California wine tours in Santa Barbara and San Luis Obispo back in April 2015 with its UberWINE and UberWINEXL programs.
UberVIP is Uber's elite customer appreciation program, which has mainly been available in large markets such New York and San Francisco.
The Failed Ventures
Uber has also had some mishaps when it comes to testing out its on-demand platform for outside services. Last year, its partnership with famed restauranteur David Chang for his delivery-only eatery Ando deliver-only restaurant Ando ended up failing to gain traction. Ando later ended up opening a physical space in Manhattan.
By adding an official credit card to its roster of products, at this rate the company seems ready to Uber-fy its users' entire service experience.