Original Xbox Backward Compatibility is Here for the Xbox One
Microsoft has made a big upgrade.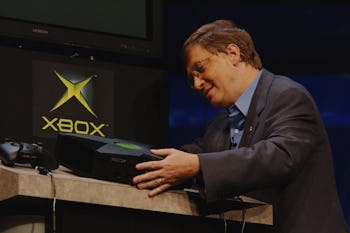 Getty Images / David McNew
The Xbox One got a huge upgrade on Tuesday, as Microsoft rolled out support for certain original Xbox games on its latest console. With the new release, the machine now supports titles dating back to 2001. It's a big break from Sony and Nintendo, both of which generally ask customers to buy old games all over again if they want to play them on its new consoles.
The initial list of 13 original Xbox games joins the staggering 434 Xbox 360 games compatible with the Xbox One. In this first batch, set to expand over time, some cult favorites make their way over to the console, including mind-control platformer Psychonauts, party game Fuzion Frenzy, and first-person shooter Red Faction II. Just pop an old disc in the machine, and it will download a complete version of the old game.
Microsoft has pulled ahead with its support for old software on new machines. Sony's PS4 is still only capable of playing certain PS2 games downloaded from the online store, with disc-based games and the company's other two home consoles shut out. The Nintendo Switch, which h, also only supports older games downloaded from the store.
But why is it such a struggle? The PS2 was famous for its ability to play almost every PS1 game, and early models of the PS3 also had near-flawless backwards compatibility. But these machines contained chips from the old machines, an engineering decision that clearly isn't sustainable in the long run.
When a game is made for a games console, developers try to use the hardware to its full potential. The game expects the processor to interpret instructions in a certain way, and in a race to claim the best-looking graphics, console makers want to offer the best to developers. Console chips can grow incredibly complicated and exotic: Sony reportedly spent five years and $400 million developing the PS3's Cell processor.
Microsoft, unwilling to slap an Xbox-inside-an-Xbox, opted for a software-based route when it developed backwards compatibility for the Xbox 360, which used a PowerPC chip very different from the original machine. The team started working in 2007 on backwards compatibility again for the upcoming Xbox One, due to launch in 2013. Forward planning meant the team was able to shape the hardware slightly to make software emulation easier. In the summer of 2015, Microsoft announced the feature at the E3 electronics show.
"It was literally the proudest moment of my career," Kevin La Chapelle, the Microsoft veteran at the heart of the project, told IGN. "The room erupted. I teared up. It was perfect validation of all this effort."
Beyond cost savings on hardware and a simplified design, the other benefit of the software-based route is enhancements to original games. The Xbox One X will play certain 360 games at higher resolution, with greater color depth and new filtering techniques. It can't add in better graphics, but it can give old games a welcome polish.
PS4 owners reading this and gearing up to dust off their old games might want to hold off. While PlayStation Now offers the chance to stream games from a PS3 sat in a building somewhere to your home PS4, proper local gameplay doesn't sound likely.
"When we've dabbled with backwards compatibility, I can say it is one of those features that is much requested, but not actually used much," Jim Ryan, head of PlayStation Europe, told Time in June. "That, and I was at a Gran Turismo event recently where they had PS1, PS2, PS3 and PS4 games, and the PS1 and the PS2 games, they looked ancient, like why would anybody play this?"
For now, it seems Microsoft players will have all the old-school fun for themselves. Here are the initial games set for backwards compatibility on the Xbox One:
Black
Bloodrayne 2
Crimson Skies
Dead to Rights
Fuzion Frenzy
Grabbed by the Ghoulies
Neowave: The King of Fighters
Ninja Gaiden Black
Pirates!
Prince of Persia
Psychonauts
Red Faction II
Star Wars: Knights of the Old Republic