10 Hilarious Copyright-Dodging Halloween Costumes
Groovy Man? Yeah baby yeah!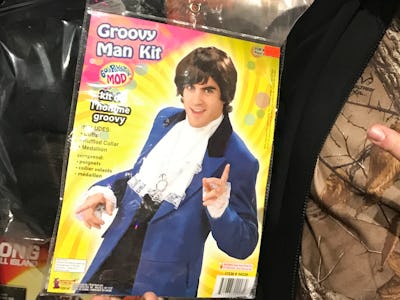 Flickr / theopie
Halloween is wonderful for a lot of reasons: You get to eat candy, you get to listen to "The Monster Mash" on repeat, and best of all, you get to dress up in whatever costume you feel best expresses your best — or worst — self.
For some of us, though, one of the best parts of Halloween is checking out all the hilarious copyright-dodging costumes. You've definitely seen them: The outfit, mask, or wig looks exactly like a famous character from a TV show or film, but the name is different. The verbal acrobatics behind these costume names can be either boringly descriptive or hilariously, dangerously similar to the copyrighted character's name.
To see what's on sale this Halloween, Inverse sent a reporter to a costume store to scout out the most hilarious copyright-dodging costumes available. Here's what he found:
Mr. Hammer
We all love Mr. Hammer! Famous for his chunky gold jewelry and character acting, he — probably — pities the fool who doesn't go out and buy this stylish wig.
Nikki
This one may not be obvious to the casual observer, but a careful spelling helps the "Nikki Wig" skirt any potential legal hassle.
Renaissance Queen
Anyone who's read Lewis Carroll's literature, or has seen Tim Burton's adaptations of it, will no doubt remember the evil Renaissance Queen. Who could forget?
Fighter Jet Pilot
Who can forget when young Tom Cruise played a fighter jet pilot in one of his most well-recognized roles? Now you can dress up as his character from the film Fighter Jet Pilot!
Rockin' Diva
Some people might rather dress as a musician than a movie character. If that describes you, grab this wig to sport the iconic hairstyle of Rockin' Diva!
Beauty Princess
In one of the most iconic Disney films of all time, a young woman falls in love with a man who was cursed to take the form of a beast. Now, for the first time, you can dress up as the titular character from Beauty Princess!
Rag Doll Girl
If you want more of a classic Americana look, you can dress up as one of the best-known characters from children's literature, Rag Doll Girl.
Groovy Man
In perhaps the greatest movie trilogy of all time, Mike Myers portrayed an anachronistic, swingin' secret agent. Now you can go trick-or-treating as the main character from Groovy Man for an affordable price!
Elf Warrior Princess
For all the gamers out there looking for a feminine take on an iconic Nintendo character, look no further! Now you can show up to a Halloween party dressed as Elf Warrior Princess!
Orange Prisoner
And to round out our lineup of fabulous copyright-dodging costumes, here's a jumpsuit just like the ones worn in your favorite Netflix series, Orange.