Video: Tesla Model 3 Self-Parking Shows Why Its Design Is Genius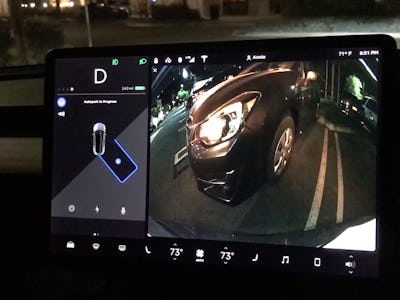 stannous2 T/YouTube
The Tesla Model 3 sets the benchmark for in-car design, and a new video posted Wednesday shows why. YouTube user stannous2 T demonstrated how an update to the Tesla Autopilot semi-autonomous driving system enables automatic parking in the company's newest electric vehicle, released this summer.
Tesla made a lot of changes to get the Model 3 down to its $35,000 starting price, the lowest for a vehicle the company has ever shipped. Based off the Model S sedan, the car cuts out some of its bigger brother's major features, including paring down the dual screen system to just one 15-inch touchscreen in the center of the dashboard.
The new YouTube video shows how, although the Model 3 lacks the instrument screen behind the steering wheel that's found on the Model S, it more than makes up for it through a minimalist design that displays information like current gear and Autopilot status on a screen that's easy to read even in the dark.
Watch the "Autopark" feature in action:
The screen offers all the functions otherwise found in the instrument cluster behind the steering wheel, giving it a futuristic look. Here is how the dashboard looks during the daytime:
The parking feature is just one of many software updates scheduled for the Model 3, which is expected to receive a fully autonomous driving mode at some stage in the future. In an email received by Electrek, Tesla explained to Model 3 owners how to get the automated parking feature up and running in their car:
To take advantage of this update, you will need to recalibrate the Autopilot hardware on your vehicle by driving on straight, well-marked roads for a total of 50 miles. Please keep in mind that recalibration time can vary based on road types. After this calibration process, Parallel and Perpendicular Autopark will be newly enabled, and Autopilot will resume normal operation. There is no need for a service visit.
The Model 3 will only improve from here. Once they can produce enough of them, that is.
If you liked this article, check out this video of an island that is completely solar powered, thanks to Tesla.