This Drone Video of Jeff Bezos Atop Amazon's Newest Wind Farm is Delightfully Absurd
Because Jeff without a drone is like Elon without his BFR.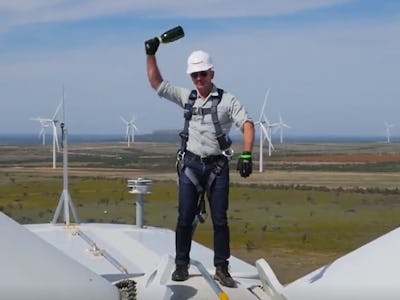 Twitter
Living his best life, Inverse presents the one and only Jeff Bezos. He's obviously hard at work, because look at that construction hat!
Bezos tweeted out this video Thursday that shows him smashing a champagne bottle over Amazon's new wind farm like a boat captain christening his new ship. The Amazon CEO — as well as Washington Post owner and founder of aerospace company Blue Origin — cooly stares down the drone as it pans out and shows the 53-year-old literally 300 feet off the ground standing on top of a wind turbine.
This video comes in from Texas, the location of what Amazon says is its "largest renewable energy project to date." Amazon Wind Farm Texas, announced back in September 2016, will produce a million megawatt hours of wind energy each year with its 100 wind turbines, the company says. This is the fifth completed wind farm in Amazon's sustainability efforts.
Coincidentally or not, Bezos' video comes a day after Tesla had some big wind energy news of its own. Windlab Limited, an Australian wind energy company, announced it had signed Tesla as its battery supplier for a $160 million renewable energy project.
This is not the first time Bezos has celebrated a project on social media with a drone video. Almost three months to the day, Bezos posted on Instagram a drone video of himself chilling on the roof of his Blue Origin rocket factory.
Of course this is absurd, but it's not surprising. Bezos doesn't know how to do anything halfway, so of course he would flaunt his ability to one-up everyone in this video.
If you liked this article, check out this video of a man-made island that could power 80 million Europeans with clean energy.