The Han Solo Movie Officially Has a Title. You'll Never Guess It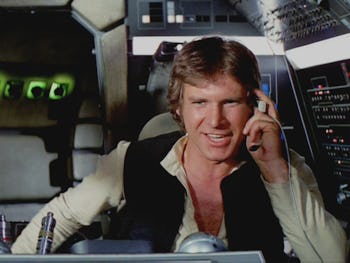 Lucasfilm
The worst-kept secret in the galaxy is officially out there for the world to behold. The Han Solo standalone film has a title. And you'll never, ever guess what it is.
Director Ron Howard — who was brought in to take over the project by Lucasfilm in June after directors Phil Lord and Chris Miller were ousted over reported creative differences — took to Twitter on Tuesday to finally, officially announce the film's title.
Drum roll, please.
The Han Solo standalone film is titled: Solo: A Star Wars Story, shockingly enough.
On-set leaks of crew t-shirts with the film's logo made their way online, and actor Woody Harrelson also kinda-sorta spilled the beans back in July. The title falls in line with the same wording as the first Star Wars anthology film, Rogue One: A Star Wars Story.
Details about the characters, the plot, and everything else surrounding the film are vague and unanswered, but at least we now know what to call the damn movie.
Solo: A Star Wars Story is expected to premiere in theaters on May 25, 2018.
If you liked this article, check out this video that reveals two huge twists in the Last Jedi trailer.