How the California Wildfires Will Ravage the Weed Economy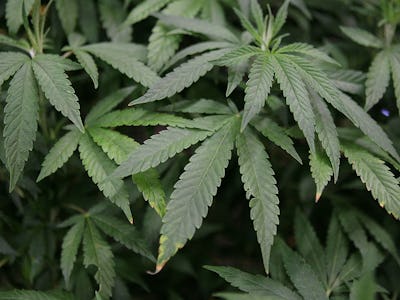 Getty Images / Justin Sullivan
The wildfires in Northern California are proving to be far more serious than anyone had anticipated. So far, the fires are responsible for 37 deaths and has wrecked as-yet unknown havoc on the state's economy. California's fertile agricultural lands yield most of the country's produce, nearly all of our domestic wine, and weed. Lots of weed.
The New York Times reports that Mendocino County has been particularly hard-hit by the 2017 fires. "At least seven farms had been destroyed," writes the Times and that number is expected to rise once farmers return their lands after the fires recede.
This natural disaster highlights a problem facing pot farmers: since cannabis is illegal at the federal level, many farmers have difficulty obtaining business insurance. A loss is devastating for their business because it cannot be recouped. Many farmers also had not yet harvested the plants, meaning that entire crops have been lost to the fire.
Weed farms that have survived the fires face another dilemma: the quality of their crops have suffered from the atmospheric effects of the fires. Soot carried through the winds can settle on the marijuana leaves, infusing the plant with the smell of smoke. "If it's supposed to smell like lemon and it smells like wildfire, that's going to be a significant detractor," the Times quoted Hezekiah Allen, executive director of the California Growers Association. The dangers aren't purely aesthetic, either. The smoke may have deposited contaminants onto the plants, rendering them unsuitable for consumption.
All the factors combined point to a significant loss of revenue for California's pot economy, the effects of which have yet to be calculated. The fires are still burning as of press time.
The burgeoning pot economy could be helped along if Attorney General Jeff Sessions wasn't so staunchly anti-pot. Sessions still envisions the War on Drugs as a policy worth spending millions of taxpayer dollars on, despite mountains of evidence proving that it has not worked. The Attorney General has no plans to reconsider the federal ban on marijuana, although public consensus for legalization is at a, well, high, with 60% of Americans favoring legalization. Several states have even enacted varying types of cannabis legalization — most notably Colorado, which allows personal use and limited retail of marijuana, via a statewide referendum passed in 2012 and enacted in 2014. In the past three years alone, Colorado has seen their weed economy grow to rake in nearly $2.4 billion in revenue annually. That's a lot of joints being sold, and a lot of tax money that goes back into Colorado's state coffers.
California's weed legalization law goes into effect in 2018, and they were hoping for a slice of that edible. Unfortunately, it looks like many weed farmers won't have their crops ready by then — the plant takes about 6 months to harvest when grown outdoors.