5 Scientific Conclusions About Rappers and Their Cars
Here's how much rappers love mentioning their rides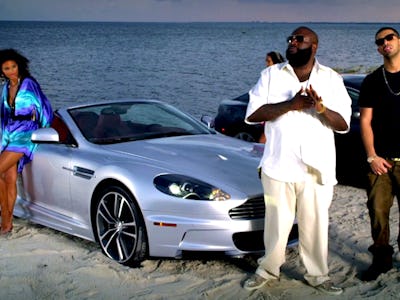 www.YouTube.com
Over at Cuepoint "MC Big Data" has done a deep dive on the intersection of car and rap culture, breaking down lyrical trends and culling together information from 323 popular tracks released over the last two decades. It's an impressive bit of work full of surprising insights. 
Here are the five most interesting takeaways (and a video of Rick Ross singing about his Maybach):
1. Even Rappers Were Weary of the 2008 Financial Crisis
Around 2008, when the global financial downturn let the air out of Detroit's tires, rappers almost stopped talking about their cars. There is a marked decline in car mentions around this time, with top brand Cadillac's 348 mentions in 2006 and 2007 plummeting to 108 mentions in the following year. Other top brands like Mercedes and Chevrolet fell out of favor. The rebound came around 2011.
2. Bugatti Is the Most Exclusive Rap Vehicle
Despite being relatively short on mentions in rap songs, the Bugatti is undoubtedly the most exclusive vehicle for rappers to spit fire about, mostly because the company only puts out a single car model. Since it was first produced in 2005, the Bugatti Veyron has seen a steady incline in popularity: It garnered 63 mentions in 2013. Not bad for a single model.
3. The Impala Is Rappers' Car of Choice
The Chevy classic wins the contest hands down, appearing in a whopping 971 over a 19-year period, with most focused specifically on the 1964 model. It's also the personal favorite of Compton rapper The Game, who talked about the car in 82 different songs, including the 2011 mixtape track "In My 64."
4. Lexus and Hummer Aren't Cool
Rappers loved rolling in their Lexus in 1998, but after that they must have traded them in for something new. The car brand was named in 140 songs and peaking in the late '90s before hitting an all-time low with only 30 mentions a decade later. The same goes for Hummer. The gigantic gas-guzzler began growing in popularity in 1996, dropped to 20 mentions by 2011 .
5. The Game and Gucci Mane Basically Talk About Nothing But Cars
The Game loves his Impala, but he also seems to love all kinds of cars too. He has 279 car-related songs in his repertoire, and mentions rolling on four wheels in 64.58% of all of his songs. But Gucci Mane trumps The Game with 302 car-related songs, roughly half of the music he's ever made. 
Dude, get a bike.