This 'Seinfeld' Theme-Playing Door Gets the Best Video Reaction
Evan Genuise built the dorm room everyone wants.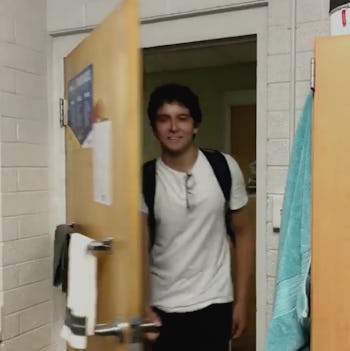 GDisasters/Reddit
Ever wish your life was more like a sitcom? Evan Genuise, an 18-year-old computer science and electrical engineering student at Northern Arizona University, thought the same thing, and decided to put his technical know-how to use to play a sweet bass theme every time someone enters his room.
"I thought it would be hilarious to rig my dorm with a sensor that played random transitions from the Seinfeld show," Geniuse told Buzzfeed.
How right he was. Unfortunately, a friend of his was less than impressed. In a short video posted to Geniuse's Twitter account last week (and subsequently shared on Reddit Wednesday), the bass theme plays as Geniuse's friend stands in the doorway, with a look suggesting he has perhaps heard it one too many times before.
Unlike his friend, the internet has overwhelmingly praised the idea. The original tweet has over 100,000 likes, while the Reddit post has over 7,000 upvotes.
"Absolutely the best thing ever," said Reddit user MrsEvilPants.
"I actually had this in my dorm last semester," said Reddit user spicymanatee. "It really does get obnoxious after the 400th time opening the door lol."
Watch the video here:
It's not the first time someone has devised a similar setup. Geniuse was inspired by YouTube user Chloe Alix, who shared their version of the system back in March 2015. Unfortunately, Alix's video lacks any willing subjects moving through the door, let alone the look of despair:
Alix's system used a microSD card filled with a bunch of Seinfeld transition sound effects. The card is placed into an Adafruit Music Maker Shield, a circuit board capable of decoding audio files. The shield was hooked up to an Arduino circuit board, which was capable of managing a variety of inputs and executing commands. The board was wired up to an infrared motion detector, which was hooked up to the door to tell the Arduino when it's open. When triggered, the Arduino follows this source code and plays a theme.
If it all sounds a bit too complex, step-by-step instructions exist. Grant Paulis, a producer at HotDamnTV, has written a guide with exact instructions on what to buy, how to get the code running, and which wires to poke where.
It doesn't have to be Seinfeld, either. YouTube user Foone Turing used a similar system to play the house theme from Zelda: Ocarina of Time:
We really are living in the future.