Who Will Win Philadelphia Eagles vs. Carolina Panthers? A.I. Predicts
Finally, an epic Thursday nighter.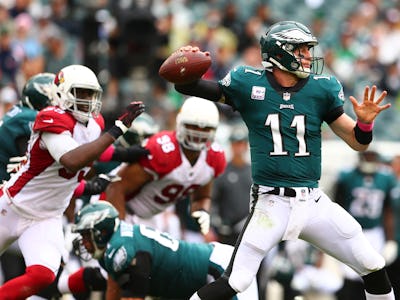 Getty Images / Mitchell Leff
The NFL's Thursday night games don't have the best reputation, but that could be set to change this week as two of the best teams in the NFC square off. A hive mind of about 30 NFL fans predicts the Carolina Panthers will win at home over the Philadelphia Eagles, but it's likely going to be close.
Both teams enter at 4-1. The Eagles look especially strong, considering their only defeat came at the hands of the undefeated Kansas City Chiefs, and second-year quarterback Carson Wentz has shown marked improvement in his play. For the Panthers, so much of their success goes back to the health of Cam Newton, who has looked increasingly like his old, MVP-quality self in recent weeks. If all involved play up to their potential, this one should be epic.
Subscribe to the Inverse newsletter. Trust us, we're from the future.
To predict the result of this and other games, Unanimous A.I. used what's known as swarm intelligence to forecast the week's slate. More than 40 NFL fans worked together as a hive mind to make picks. As you can see in the animation below, each participant controlled a little golden magnet and used it to drag the puck toward the answer they thought was the most likely outcome. As the users saw the puck move toward a particular outcome, it triggers a psychological response. They readjust their decision-making, building toward a consensus. Here's Unanimous A.I. founder Louis Rosenberg explaining swarm intelligence at a recent TEDx Talk.
Unanimous A.I. has made some scarily accurate predictions in the past using swarm intelligence, as our previous article explains. For instance, the swarm went a perfect 7-0 in its most recommended picks for a recent English Premier League slate.
T
Similarly, the swarm is only willing to go with a low confidence pick — and a barely better 76 percent brainpower — behind the Panthers covering the three-point spread. Probably a better game to watch than to gamble on, all things considered.
The game kicks off 8:25 p.m. Eastern Thursday on CBS, the NFL Network, and Amazon Prime Video.