Why 'Blade Runner 2049' Is Bombing at the Box Office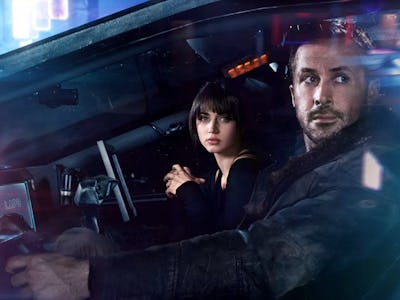 Warner Bros. Pictures
Denis Villeneuve's Blade Runner sequel, Blade Runner 2049, has not lived up to expectations at the box office and is projected to make a measly $32.6 million over opening weekend. That's a dystopian reality for a film that cost $155 million to make.
Despite rave reviews and a Rotten Tomatoes audience score of 86 percent, the hype just hasn't translated into cold, hard cash for the ambitious sequel. There's probably a couple of reasons why. According to Variety, its length of 163 minutes cuts down how many screenings theaters can accommodate each day. It's also important to point out that the original Blade Runner is a cult classic, emphasis on cult. The original film only grossed $27 million when it was shown in theaters back in 1982, a fraction less than its $28 million budget. Despite critical acclaim, Blade Runner 2049 may not have enough leverage to entice a general audience. As slick as the promotional material for Blade Runner 2049 has been, it was also cryptic and tight-lipped about plot points and narrative in the upcoming film. Rather than trying to entice people unfamiliar with the first Blade Runner to a standalone movie, the promotional material seemed to almost pander to pre-existing fans, focusing on the unique, sci-fi beauty of a future world that fans of the first film would recognize.
A similarly niche sequel, Ridley Scott's Alien: Convenant, grossed $36 million on its opening weekend earlier this year. Slightly better than Blade Runner 2049, but not by much.
When it comes to delivering at the box office, perhaps reboots — rather than sequels — of semi-obscure fan favorites are the way to go. As an interesting comparison, It has made $304.5 million at the box office so far. Based on the Stephen King novel that was made into an infamously creepy TV miniseries in the '90s, the feature film version is now rolling in the cash, having been made on a $35 million budget.
Still, there's time left for Blade Runner 2049. It's only opening weekend, and the film's popularity could be something of a slow burn. At this point, however, it's looking like it might attain a mere cult status, just like its predecessor.
Must Read: Why 'Blade Runner 2049' Should've Had a Post-Credits Scene
If you liked this article, check out this video on the practical effects in Blade Runner 2049.