East New Orleans Evacuated Ahead of Nate, But Storm Path Is Unclear
More than a decade after Katrina, the city is being tested again.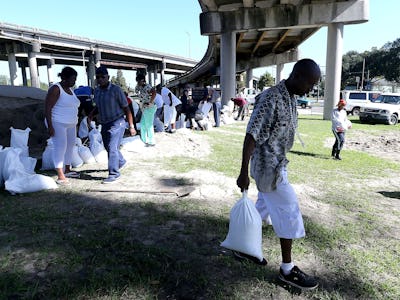 Getty Images / Sean Gardner
On Friday afternoon, the mayor of New Orleans ordered residents in neighborhoods surrounded by water to evacuate ahead of tropical storm Nate, which has already killed at least 22 people and threatens to bring massive flooding to the sea-level city.
Forecasters predict Nate will make landfall as a hurricane near New Orleans overnight Saturday, the National Hurricane Center says. As of Friday night, hurricane warnings have been issued for the eastern parts of Louisiana to the Alabama-Florida border and a 6 p.m. curfew has been issued for Saturday night.
This forecast, however, is not guaranteed to be completely accurate. Like the computer "spaghetti" model many meteorologists use, the cone on the NHC map represents a range of where the storm's path could be. These various predictions are based on factors like weather forecasts, wind speed and direction, and the tendencies of vast storms. The thinner the cone, the more that these different prediction models are in agreement of where the storm will go.
But metro New Orleans seems to be in the storm's direct path, which has was enough for mayor Mitch Landrieu to call for the mandatory evacuation of residents of New Orleans East by noon on Saturday. He told residents to anticipate heavy rainfall and storm surge, a problem the city has taken seriously since Hurricane Katrina caused massive devastation and killed 1,800 people in 2005.
Much of the $80 billion dollar damage from Hurricane Katrina was attributed to the levees and flood walls surrounding New Orleans meant to mitigate flooding. But the hurricane caused flooding that broke through these structures and inundated a vulnerable city sitting positioned sea level.
More than 10 years later, some neighborhoods in New Orleans are still building back up from the mass destruction. The city has spent billions of dollars to engineer an improved flood prevention system. But the costliest hurricane in history is still fresh to many and reason to take many precautions, as mayor Landrieu noted in his Twitter feed Friday.
Louisiana Gov. John Bel Edwards previously issued a state of emergency Thursday for the entire state, and said 1,300 National Guard troops were mobilized to the storm area.