How to Read the Computer Models for Tropical Storm Nate
These spaghetti models show all the predicted paths Nate could follow.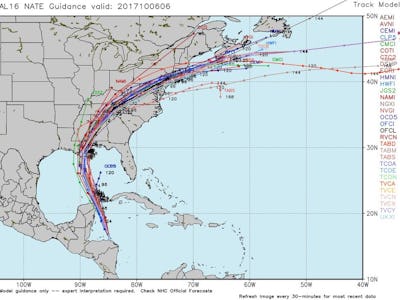 Weatherbell
Tropical Storm Nate is expected to make landfall over the weekend in the U.S., with New Orleans and Mobile, Alabama in its direct path, forecasters say.
The National Hurricane Center issued a hurricane warning Friday for the eastern parts of Louisiana to the Alabama-Florida border as Nate gathered speed in the Caribbean Sea. Nate has already killed 22 people in Nicaragua and Costa Rica, along with severe flooding, according to The Weather Channel.
Forecasters, as ahead of many storms, have created computer models to best predict Nate's path. These maps, with dozens of colorful lines sprouting in different directions, may seem confusing to most people, but they're not too hard to read and can be important to understand once you know what they show.
These maps — nicknamed "spaghetti models" for their thin noodle-like lines — depict the various predicted paths for an upcoming storm. Each model path is based off of different factors. Some account for statistics on the tendencies of past storms, some are based on weather forecasts of climate and atmospheric pressure, some look at wind speed and direction. The National Hurricane Center summarizes the many, many different models with charts if you're curious.
Looking at how closely the lines group together can give you insight on whether forecasters have similar or wildly disagreeing opinions on where a storm will make landfall. The close the different spaghetti strands are together, the more confident we can be in the storm's path, simple as that.
However, these computer models only represent the where and when. They show a storm's path and don't depict any information on characteristics that attribute to its impact, like wind speed, pressure, rainfall and size. These models shouldn't be used as your only resource in telling if you're safe from damage.
In the case of Nate, this note is especially vital. Although not predicted to be directly in Nate's path, areas of the U.S. recently hit by Hurricanes Irma and Harvey are significantly weakened and still recovering from damage. Additionally, no one can forget the catastrophic effects of Hurricane Katrina on New Orleans in 2005, which was attributed in part to the city's low elevation beyond just the severity of the storm. That could be a factor with Nate as well.