This Self-Driving Electric Rover Is a Total Beast
The heavy-duty concept truck chassis could be a military machine someday.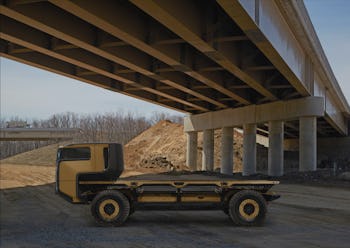 GM
Named after the elephant Hannibal rode across the Alps, you better believe General Motor's futuristic new vehicle platform concept is designed with power in mind.
SURUS, which stands for Silent Utility Rover Universal Superstructure, is basically a fuel-cell powered flatbed truck that resembles a massive skateboard. While it's hard not to look at the renderings and wonder, "Where's the rest of it?" that's kind of the point.
According to the press release from GM, SURUS' unpredictable terrain-ready foundation is intended for commercial use with practical applications like mobile emergency power backup and cargo delivery. It would have a range of 400 miles.
The company acknowledges it could also be easily adapted for military purposes. This use seems especially practical when one considers its "quiet…operation" and water generating capabilities.
"The SURUS platform is equally well-suited for adaptation to military environments where users can take advantage of flexible energy resources, field configurability and improved logistical characteristics," the company stated.
This concept clearly draws from Autonomy, a GM "car of the future" concept that the company released 15 years ago. Like SURUS, this prototype also featured a hydrogen fuel cell, and its shtick was that one could attach and detach a variety of lightweight bodies to it.
Without even a tentative launch date, it's pretty much anyone's guess when we'll actually be able to see this headless vehicle on the road. One thing's for sure given its massive frame, though: it'd be tough to miss.
If you liked this article, check out this video on five reasons to get excited about self-driving cars.