Peter Capaldi's Ideal 'Doctor Who': Jimi Hendrix, Flower Aliens
The 12th Doctor's farewell tour.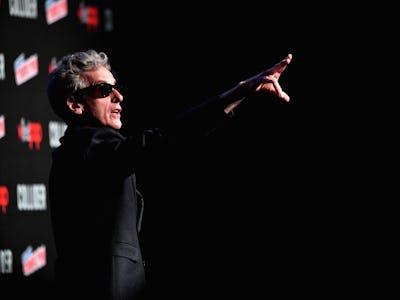 Getty Images / Dia Dipasupil
The 12th Doctor has always wanted to save Jimi Hendrix from flower-headed monsters. During a Doctor Who Q&A panel on Friday at New York Comic-Con 2017, Capaldi spoke to both the past and future of Who, all the while reaffirming his role as a classic rock fan.
Capaldi, laughing the whole time, told audiences that his ideal imagined episode of Doctor Who (if showrunner Steven Moffat would have ever allowed him such creative control) would involve helping legendary guitarist Jimi Hendrix find his sound.
In Capaldi's fantasy Doctor Who episode, the 12th Doctor would have shown up at the beginning of Hendrix's career. Hendrix, feeling a little lost, would have gotten some help from the 12th Doctor in discovering his sound. Capaldi's Doctor would have developed a wah-wah pedal (a funky effect pedal for electric guitars) in the Tardis to present to Hendrix. Then, out of nowhere, some "flower people with great big petals on their heads" would attack, and Hendrix and the 12th Doctor would have to work together to defeat them.
And the Doctor would save the future of rock 'n' roll by saving Hendrix.
Capaldi, who will perhaps best be remembered as the "Cool Dad" Doctor who rolled into an arena on top of a tank, shredding away at an electric guitar, is a noted classic rock fan. Long-time fans of Doctor Who have noted that Capaldi seemed to settle into his role once he inserted that part of his IRL personality into the 12th Doctor. So, of course, his ideal Who episode would involve his teaming up with a rock 'n' roll legend such as Hendrix.
And while that kind of adventure never really happened in the Doctor Who universe, maybe it's going on right now in an alternate reality.
Doctor Who will return for Peter Capaldi's final run as the Doctor for the 2017 Christmas Special.