This Model Is Facing Threats Over Unshaven Legs, But She's Totally on Trend
Arvida Byström leads a generation of unshaven women.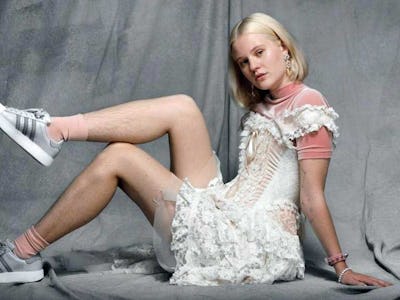 Model Arvida Byström is getting death threats following an Adidas ad that shows off her unshaven legs, but she's also getting thousands of comments in support — and history seems to be on her side.
Byström, a 26-year-old model known for thought-provoking work around ideas of femininity, set off the latest controversy with a 15-second video where she appears in a pink t-shirt and frilly white dress with a striking growth of dark hair on her lower legs.
"My photo from the @adidasoriginals superstar campaign got a lot of nasty comments last week. Me being such an abled, white, cis body with its only nonconforming feature being a lil leg hair. Literally I've been getting rape threats in my DM inbox," Byström wrote on Instagram.
But the commenters responding on Instagram — more than a thousand of them — are overwhelmingly positive. Warhawk30 wrote: "We all have hair, what utter nonsense." Clairemlynch said: "Amazing! Hope this catches on! There is so much pressure on women to be completely hair free, think sometimes people forget it is normal. Thank you for not conforming!" Saramcsz added: "Fuck society. You're beautiful."
While women's shaving trends fluctuate often and aren't easy to track, a recent survey by market research giant Mintel suggests that more and more women are going unshaven.
As reported in the Telegraph, approximately 85 percent of women aged 16 to 24 shaved their legs in 2016, down from 92 percent in 2013.
For underarms, the trend is more dramatic, with the percentage of young women shaving them falling from 95 in 2013 to 77 in 2016.
Byström has also shown off armpit hair in past pictures, like one where her nonconformative hair stands out against a pink bikini top.
Byström also made headlines in 2012 for a series for Vice called "There Will Be Blood," which featured pictures of women on their period. In April 2017 she and artist Molly Soda published a book, Pics or It Didn't Happen, which featured images that were banned from Instagram.