Google Pixel 2 Event: What to Expect From the October 4 Unveiling
Google's set to unveil a big update.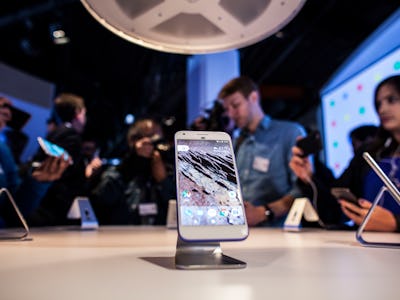 Getty Images / Ramin Talaie
Google is about to unveil some big updates to its Pixel line. The company's line of Android-powered smartphones, designed to offer a premium experience that showcases its software, is expected to receive a number of updates on Wednesday at a special event in San Francisco. But the company is also making updates to its smart home and laptop offerings, meaning this probably won't be one you'll want to miss.
Here's what to expect from Google's event:
Google Pixel 2 and 2 XL
The Google Pixel and Pixel XL are both set for an upgrade, one year after Google first unveiled the line. Android Authority reports the Pixel 2, priced from $849, will feature a 1,920 by 1,080-pixel screen with a 2,700 mAh battery. The Pixel 2 XL, on the other hand, will have a 2,560 by 1,440-pixel screen, powered by a 3,520mAh battery. While the screens retain the same pixel count as their predecessors, the Pixel 2 will have a slightly smaller battery, while the Pixel 2 XL will have a slightly larger one.
On both phones, Google is boosting the internal specs. The phones will now feature a Qualcomm Snapdragon 835 processor, Pixel cameras with optical image stabilization and Google Imaging Chip, water resistance rated to IP67, and an e-SIM like the one found in the latest Apple Watch. The fingerprint scanner makes a return in updated form, but the 3.5mm headphone jack will be removed. Both phones will be sold with either 64GB or 128GB storage.
Both phones may also feature something called Active Edge, which is rumored to allow the user to squeeze the phone to complete tasks like mute incoming calls.
Pixelbook
The laptop hybrid, as reported by 9to5Google, will flip from a laptop into a tablet. Essentially a high-end Chromebook, the device will feature a 12.3-inch display and support a $99 accessory known as the Pixelbook Pen, allowing for lag-free drawing on the screen.
The new device will be available in 128GB, 256GB, and 512GB storage options, priced at $1,199, $1,399, and $1,749 respectively.
Google Home Mini
Google is set to unveil a smaller version of its Home voice-activated personal assistant, a device likely to rival the Amazon Echo Dot for the budget range. The Independent reports that the Home Mini will measure 4.53 x 4.53 x 4.72 inches, with a price of $49. Powered by Google Assistant, it will come in three colors: chalk, charcoal and coral.
If you liked this article, check out this video of Bob Ross (and his "happy little trees") as seen through Google's DeepDream A.I. program.