How Missouri's Stubbornness Made It a Top Hyperloop Contender  
The Show Me State is ready to show everyone.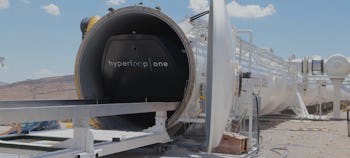 Hyperloop One
When it comes to the competition to the build the world's first hyperloop, Missouri won't take no for an answer.
The state's proposed route linking Kansas City, the college town of Columbia, and St. Louis [didn't make the cut](https://hyperloop-one.com/hyperloop-one-announces-10-winners-hyperloop-one-global-challenge) last month when Hyperloop One announced the 10 winners of its Global Challenge, an initiative to identify the most promising sites for the world's first hyperloop route. The proposal initially lost out because of an apparent lack of support from state officials and local local business leaders.
But that all changed Tuesday with the announcement of the Missouri Hyperloop Coalition, a partnership of public and private interests whose first goal is raising the $1.5 million needed for a feasibility study for the project.
Missouri's hyperloop proposal was one of, if not the strongest in the United States, at least from a strictly logistical perspective. The route would run along Interstate 70 between Kansas City and St. Louis. Columbia, home to the University of Missouri, lies right in the middle. It takes nearly four hours to drive the 250 miles between the two big cities. The hyperloop would cut that to 25 minutes.
Andrew Smith of the St. Louis Regional Chamber has been one of the key architects of the Missouri Hyperloop Coalition. He tells Inverse it's fair to say Missouri refused to take no for an answer when it became clear the route would not be one of the 10 winners of the Global Challenge.
"We were pretty stubborn about it," he says. He declined to give a precise timeline for when the feasibility study would happen, but he said the coalition is optimistic they will be able to raise the $1.5 million from the Missouri business community in the near future.
For Hyperloop One, there's little time to waste.
"Our company has said we want to get the system up and running by 2021," says Katz. "I think with this development, it puts Missouri in the race for that. The feasibility study is the first step."
The route has several advantages over other proposals, starting with how straight the route between Kansas City and St. Louis is.
"If you were to sort of dream up an ideal route, this one really does fit the bill," says Katz. "We love straight routes. It's really great that you have three important cities along a very straight route, and that there's some distance between the cities that will take full advantage of a hyperloop system capability."
The fact that the route is contained entirely within Missouri means there's only one regulatory jurisdiction to have to deal with, unlike the multiple states that would be crisscrossed by, say, a hyperloop between New York and Washington, D.C. And Smith says Missouri's business-friendly environment should also make it more attractive to Hyperloop One.
"We have the lowest cost and lowest regulatory environment of any cities in the Global Challenge," says Smith. "You could do it here faster, cheaper, and better than just about anywhere else."
For a sense of what such a hyperloop would mean to the five million people it could someday serve, we turn to Inverse's own Missouri correspondent, entertainment reporter Caitlin Busch — a Kansas City native and graduate of the University of Missouri. She says the proposed hyperloop would have altered her college experience forever.
"At 12.5 minutes on the hyperloop from Columbia to K.C., I could have gone home for dinner every night," she says. "This is, uh, assuming hyperloop is free."
She also notes the same straight, flat terrain that make Interstate 70 such an ideal route for a hyperloop also makes it a driving experience she could just as soon do without.
"For the most part, the four-hour drive down I-70 between Kansas City and St. Louis, Missouri — the largest cities in the state and two of the largest in the region — is a joyless slog," she says. It's a problem compounded by what she calls mid-Missouri's strange, strange mix of politically charged religious billboards and sex shop advertisements.
"None of these are things I want to see while driving in a straight line for two hours at 70 miles per hour," she says. "Could hyperloop save future commuters the same pain?"
While the hyperloop has a long way to go, Smith and his coalition aim to make that possibility a reality. As for the Hyperloop One team, they see Missouri as the potential starting point for an eventual transcontinental hyperloop. St. Louis's iconic arch is a reminder of its longstanding status as gateway between East and West, after all.
"If you look at the map, it's right in the middle of the country," says Katz. "If you're going to build a nationwide system, everyone would be able to say meet me in St. Louis. All roads will lead there."
If you liked this article, check out this video on the Hyperloop One's successful speed test, which means getting it to work at 700 mph is close at hand.