Boeing's First Seat on Commercial Spaceflight is Now Available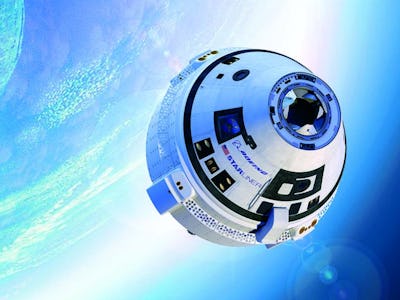 Getty Images / NASA
If you are truly tired of Earth, these people, and being caught in the tangle of their lives, we've got some good news.
Boeing has announced that it is now selling its first aboard its autonomous Starliner spacecraft, which is set to depart in 2018. The commercial spacecraft will carry four NASA astronauts and one lucky civilian. After launching from the Kennedy Space Center, the Starliner will then journey to the International Space Station](https://www.inverse.com/topic/international-space-station).
"I cannot reveal the price at this time," Boeing representative Tony Castilleja said at the International Astronautical Congress on Wednesday, as reported in a press release](https://www.newsmaker.com.au/news/341985/seats-for-sale-as-boeing-launches-star-liner-spacecraft-iac2017#.Wc1jcxNSzBL). "But currently the United States pays Russia $80 million per seat to transport NASA astronauts to the ISS. Starliner will be less than that and the commercial space market will drive the price down even further."
While that's vague, it's a safe bet the ticket will still be plenty expensive. Though Castilleja indicated the ticket won't just go to the thrill-seeking billionaire with the deepest pockets, as he said "the fifth seat is open for sale to institutions, universities and other countries."
Commercial space travel is well on its way to becoming a reality, with Boeing among the leading innovators. Virgin Galactic is also working towards a rocket mission for space tourist, requiring a $250,000 up-front deposit from amateur astronauts hoping to enter weightlessness and receive a killer view of Earth from on high. And then, of course, there's Space X. The company aims to send two tourists around the moon on the Dragon 2 spacecraft in the near future, potentially in 2018.
Over the summer, Boeing released video footage showing how it is testing various mechanisms for ensuring passenger safety. Using test dummies, the company has determined parachutes and an airbag system could slow its return into the Earth's atmosphere and protect the Starliner's inhabitants upon landing.