iPhone 8 "Crackling" During Calls? Here's What to Know and How to Fix It
Apple's latest smartphone has a slight flaw.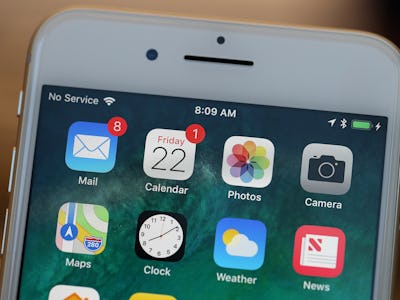 Getty Images / Justin Sullivan
It's every early adopter's worst fear. You blow nearly a grand on a new piece of tech, only to find there's some show-stopping bug that should have been ironed out in the development process. In the case of the iPhone 8, Apple's latest smartphone that launched last week, it appears some devices suffer from a crackly audio speaker — but don't worry, there's a fix.
Owners of both the 4.7-inch iPhone 8 and 5.5-inch iPhone 8 Plus, which start at $699 and $799 respectively, have noticed the issue on the phone's earpiece. When placing a call, a faint crackling sound can sometimes be heard in the background. Calls still come through clear enough, but the noise over the top can serve as an irritating distraction.
You can hear the iPhone 8 sound produced below:
It's not the first time a bug has shown up on a new Apple device. The iPhone 4 famously suffered from "antennagate" when it launched in 2010, where the phone would lose cellular service when held a certain way. The furor led to Apple calling a press conference and offering free bug-fixing cases to consumers for a limited period.
How to fix it
There's two key approaches currently making the rounds online. The first is to do the following:
When in the call with a crackling noise, move the phone away from the ear to illuminate the screen.
Press the speaker button.
Press it again to switch back to the earpiece.
Users on Reddit have discovered that this appears to resolve the issue.
The alternative is to just sit tight and live with the annoyance for the time being. Apple has announced it plans to release a software update that will resolve the issue. Unfortunately, the iOS 11.0.1 upgrade released this week does not appear to fix the problem.
"We are aware of the issue which is affecting customers in a small number of cases," an Apple spokesperson told The Verge. "Our team is at work on a fix, which will be included in an upcoming software release."
The fix may not take too long to launch. iOS 11.1 entered the beta phase on Wednesday, and while it is unconfirmed whether a fix will arrive in the update, it's a potential candidate prior to its full release.