Next Horrifying Stephen King Adaptation Is About Demons and Math
There's nothing scarier than math, imho.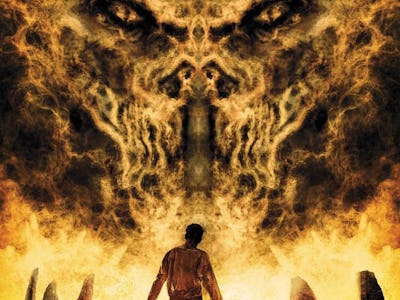 Flickr / AZRainman
Stephen King has always been popular, but it seems like 2017 really took things to the next level, as there have been a ton of TV and film adaptations of his horror masterpieces. Well, get ready to add one more to the pile, as another one of his novellas is coming to TV.
The novella in question is N., from King's 2008 collection Just After Sunset. However, Deadline reports that it's being retitled 8, which makes sense based on the plot. In the original story (which was adapted into a motion comic and limited Marvel series), several different people are haunted by eight standing stones in a field outside of a town in Maine. The victims believe the stones are a gateway that will allow a Cthulhu-like being from another plane to come to our world and wreak havoc. When this monster is about to break through, victims will see only seven stones instead of eight, and they'll develop fears and phobias of odd and prime numbers.
The show appears to be adding an It-like framing device to the story, as Deadline writes that 8 will follow three friends who escaped the malevolent force behind the stones in 1992, and have to face that history 25 years later.
David F Sandberg, the guy behind Lights Out and Annabelle: Creation, will direct the pilor, which is being written by the folks who wrote the scrip for Ant-Man And The Wasp, Andrew Barrer & Gabe Ferrari.
There's no release date or network, yet, but in the meantime, here's that motion comic adaptation.
If you liked this article, check out this video on why an important monster in the book was cut from the movie It.