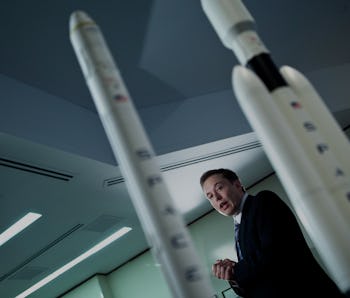 Innovation
How to Watch Elon Musk's IAC Presentation Today
Getty Images / Brendan Smialowski
Elon Musk is set to unveil a major update to SpaceX's plans for an Interplanetary Transport System (ITS), when he takes to the stage at the International Astronautical Congress in Adelaide to deliver his speech.
The SpaceX CEO has promised "major improvements" and "unexpected applications" for the system designed to transform humanity into a multiplanetary species. Fortunately, there's an easy way to watch the action in real time as Musk unveils his latest upgrades.
"Headed to Adelaide soon to describe new BFR planetary colonizer design in detail at IAC 2017. This should be worth seeing. Design feels right." Musk said on his Twitter page Wednesday.
Musk's appearance at the IAC in Guadalajara, Mexico, last year set expectations high. He explained that the ITS, a system consisting of a rocket booster, a spaceship, a tanker, and a propellant plant, is about establishing a "planet hopping" structure where astronauts can fly from Mars to Jupiter without returning to Earth to re-fuel. Expectations are high: if all goes to plan, SpaceX plans a manned mission to Mars as soon as 2026, with the ITS a vital component of the company's multi-year plan.
"Prev ideas for paying ~$10B dev cost incl. Kickstarter & collecting underpants, which turned out to be um… less lucrative than expected," he said on Twitter, referencing the South Park episode where a team of gnomes plan to turn a profit through an ill-prepared business plan that involves stealing underpants. During last year's presentation, Musk listed "steal underpants" under the ITS' "funding" slide.
This year's presentation is expected to start at these times:
Friday at 2 p.m. Australian Central Standard Time
12:30 p.m. China Standard Time
6:30 a.m. Central European Standard Time
5:30 a.m. British Summer Time
12:30 a.m. Eastern Daylight Time
Thursday at 9:30 p.m. Pacific Daylight Time
You can watch the live stream by following this link to the YouTube live stream, or by clicking the play button below:
If you liked this article, check out this video on how Elon Musk got to be so popular.