Space Experts Say 'Pit Crews for Satellites' are Coming, and Soon
They'll help satellites refuel, repair, and more.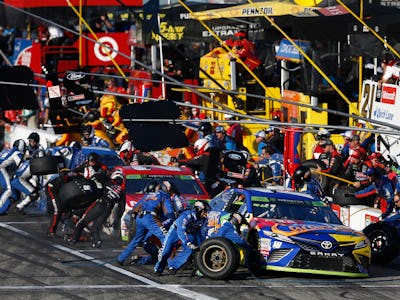 Getty Images / Jeff Zelevansky
If your car runs out of gas, you don't leave it in the side of the road. If the front door of your home gets stuck, you don't move out. Using this analogy while speaking at the annual International Astronautic Congress on Tuesday, Tony Colucci of the Space Systems Loral helped explain why the upcoming innovations in on-orbit satellite servicing and refueling are so necessary.
"It's kind of odd that there isn't any other expensive infrastructure in the world that isn't serviceable or repairable," he noted.
Satellites have long been considered lost causes when they run out of fuel or begin experiencing mechanical issues. But now, instead of being left to burn up in the atmosphere or fall to the Spacecraft Cemetery in the South Pacific Ocean, these structures may soon have the capacity to be refueled and repaired while floating out in space.
The first of these helpful devices will almost certainly be a spacecraft from Orbital ATK, a project six years in the making.
"We do dock life extension, so we rendezvous and attach ourselves to the back end of the satellite sort of like a jetpack and we stay attached for as long as the client needs," Tom Wilson, president of Orbital ATK subsidiary Space Logistics LLC, said on the panel. "Our satellite itself will do up to 16 years of life extension."
Further down the line, the goal is to provide the vehicle with even more advanced capabilities, like being able to assemble space structures while in orbit. It's expected that the first of these vehicles will launch to service a commercial satellite in December of 2018.
Two similar innovations from other pioneering space tech companies like Space Infrastructure Services and iBOSS hope to follow suit. The companies expect that their own spacecrafts will be launched into space in 2021 and 2022, respectively.
Speaking on behalf of Space Infrastructure Services on Tuesday, the company's vice president Robert Feierbach explained how his model should be able to inspect, repair, refuel, and replace satellites in geostationary orbit using robot arm technology first developed by DARPA. DARPA, which stands for the Defense Advanced Research Projects Agency, is part of the U.S. Department of Defense, and works to develop new technological innovations. (This can be seen as more of a full-service station, where Orbital's initial model is more like a set of jumper cables.)
"We believe that in 2021…on-orbit servicing will change everything," Feierbach said. "It will change the way satellite operators think about infrastructure buildup in space. You don't have to think 15 years down the road anymore."
In 2021, the spacecraft will be sent to make repairs for global communications and information company MDA.
The next innovation of this nature to follow will likely be from the German company iBOSS, which stands for Intelligent Building Blocks for On-Orbit Satellite Servicing and Assembly. As the name implies, this spacecraft (which is partially funded by the German government) will use building block-esque structures to survey, extend, and deliver payloads to satellites.
This is intended to be possible by 2022, according to iBOSS employee Joerg Kreisel.
Speaking as the "token operator" on the panel, Paul Sheridan of Optus Satellite shared how he imagines these highly futuristic vehicles could significantly help him and other satellite operating companies in the future.
"To potentially attach a life-extension vehicle or deal with an issue that might be happening, this is where flying fuel tanks or flying extension vehicles on orbit would become very valuable," he said. "It gives us a lot of options and opportunities to look at a 3-month extension, a 6-month extension, or perhaps to splash some fuel into a satellite that has had a very, very healthy life and is still fully operational."