The 7 Best Anime Coming Out in Fall 2017
There's more to be excited about than the return of 'Food Wars!'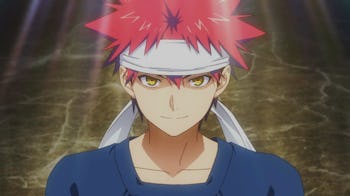 J.C.Staff
New season, new potentially awesome anime. Summer 2017 delivered unexpected hits like the cute but intense fantasy series Made in Abyss, surefire wins like Welcome to the Ballroom, along with continuing greatness in the form of superhero anime My Hero Academia. And despite a few clear duds among the 50-plus new and continuing fall series, the new season looks like it won't be slacking off in comparison.
From an anime about 12 warriors named after the animals of the Chinese Zodiac, to a show that's like Naruto with magic, to a returning series about culinary school students who compete by cooking, these are the anime we're most excited about for fall 2017. Spoiler alert: The anime adaptation of My Girlfriend Is ShoBitch did not make the cut.
Note: This article will be updated with streaming platforms as they are announced, and as pages where the anime can be streamed become available.
7. The Ancient Magus' Bride
What It's About: A 16 year old orphan named Chise Hatori puts herself up for auction, and is bought by a demon-like mage who promises to make her his apprentice and, later, his wife. From that point on, an adventure of magic and fantastical beasts begins.
Why It Sounds Good: Admittedly, the idea of a show centered around a teenager purchased by a sorcerer who says she's going to be his wife doesn't sound that promising, and none of the trailers released for the anime look terribly interesting. But the overwhelming critical reception to the manga, and the episodes that have screened so far, means it's already a must-check-out, if not a must-see.
When It's Out: October 7.
Where To Watch It: Crunchyroll, Funimation (dubbed).
6. Just Because!
What It's About: With only one semester left of high school, a group of students prepare for graduation and the end of the lives they know. It's at this point that one of their middle school classmates transfers into their class, which shakes things up.
Why It Sounds Good: Despite the not-exactly-thrilling plot, the potential for an anime along the lines of ReLIFE — which thoughtfully explored themes like regret, change, and friendship in a high school setting — make this one of the most exciting fall offerings.
When It's Out: October 5.
Where To Watch It: Anime Strike.
5. Juni Taisen: Zodiac War
What It's About: To earn a wish for anything of their choosing, 12 Chinese Zodiac-themed warriors fight in a battle royale.
Why It Sounds Good: The show's premise is already pretty solid, and trailers for the series have teased the very unique ways each combatant approaches battle. With any luck, though, the anime finds a way to be more than just round after round of fighting, as even if that's exciting, it can get a bit tedious.
When It's Out: October 3.
Where To Watch It: Crunchyroll, Funimation (dubbed).
4. Girls' Last Tour
What It's About: In a world where civilization is dead, two girls — Chito and Yuuri — travel around in their Kettenkrad motorbike. Though they struggle to survive, the two find strength in each other.
Why It Sounds Good: "Emotions in a desolate landscape" is an easy sell, even if it probably oversimplifies what people love about the manga. The animation style might be a turn off to some, but shows like this year's cutesy looking Made in Abyss have reminded us that anime doesn't have to look like Attack on Titan to deliver powerful scenes.
When It's Out: October 6.
Where To Watch It: Anime Strike.
3. King's Game
What It's About: A high school class is sent mysterious texts from a person known as "King." The texts contain instructions for a "death" game that must be followed within a certain period of time, otherwise the unwilling or slow participants will be punished.
Why It Sounds Good: A psychological anime with the potential for incredibly harrowing scenes — say no more.
When It's Out: October 5.
Where To Watch It: Crunchyroll, Funimation (dubbed).
2. Black Clover
What It's About: Asta is a young orphan who dreams of becoming the next Wizard King, despite being born without any magical power. Yuno — his friend, rival, and fellow orphan — is a magic prodigy, and has the same goal. When Asta discovers the power of "anti-magic," their journey to fulfill their dreams truly begins.
Why It Sounds Good: Shonen like Naruto have clearly inspired this series. And though the manga supposedly starts out as a carbon copy of the influences the show wears on its sleeve, it apparently becomes its own thing later on. The anime's marketing so far has spotlighted the more endearing relationship between Asta and Yuno, compared to Naruto and Sasuke's antagonistic relationship in Naruto. So hopefully the series doesn't take as long as the manga to show what changes its making to the tried-and-true shonen formula. The fact that Black Clover is being made by the studio behind Naruto could turn out to be a good or bad thing in this respect.
When It's Out: October 3.
Where To Watch It: Crunchyroll, hulu, Funimation (dubbed).
1. Food Wars!: Shokugeki no Soma: The Third Plate
What It's About: Now in its third season, Food Wars! is a thrilling shonen anime where students at an elite culinary school compete by cooking. For those new to the series, the prepared food has a tendency to blow the clothes off of the characters who eat it which, more often than not, is as fan service-y as it sounds.
Why It Sounds Good: Food Wars! is awesome because of its blend of heart and excitement, and while this was certainly present in its second season, the season was bogged down by the sometimes repetitive Autumn Elections Tournament storyline. Simply by changing things up, Season 3 could see the anime return to form, but the upcoming struggle against the Council of Ten also sounds like thoroughly intense material for the show to dive into.
When It's Out: October 3.
Where To Watch It: Crunchyroll.
An earlier version of this article included Dies irae, which was removed because — at least in its first episode, labeled as episode zero — it's depiction of characters who are basically Nazis makes light of an issue we face today, and it's a terrible show so far. We regret the error.