The 25 Best TV Shows of Fall 2017
Here's everything to binge for the rest of the year.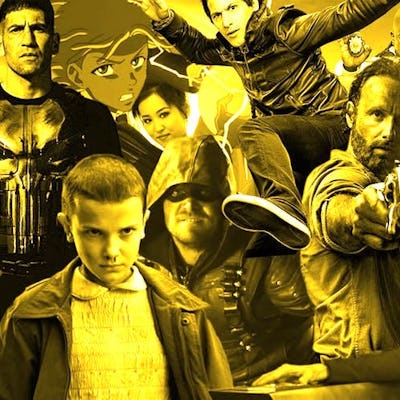 From superheroes to alternate realities to anime, we're living in a time where what was once called "genre" TV — sci-fi, horror, and fantasy — is now the default setting for the vast majority of nearly every single well-written and slickly produced series. The way we're watching these shows has quietly been upended in the last few years, too. Over half of the shows on this list will likely be watched on a smartphone or a laptop, not on a conventional TV screen.
All of this is exciting stuff, but one side effect of the new "golden age" of television also comes with a seemingly infinite amount of options. How do you pick which of the many brilliant new or returning shows to watch? That's where we come in. Here's a full ranking of what Inverse thinks are the 25 best new and returning TV shows coming this fall. We're not saying No. 25 is terrible and No. 1 is the best, but if the show's not on the list, you can skip it and still feel awesome.
Although a lot of fans took off after Jeffrey Dean Morgan's portrayal of Negan proved to be a little too much, there's hope on the horizon for Rick and his headstrong group of survivors. With the all-out war coming to the post-apocalypse, The Walking Dead is about to have the highest body count than in all previous seven seasons combined. -Eric Francisco
24. Marvel's Agents of S.H.I.E.L.D.
After a very strong fourth season, excitement for Agents of S.H.I.E.L.D. has been renewed as Agent Coulson, now back in his position as S.H.I.E.L.D. director, must lead the team in a mysterious new era — in space? There are a lot of questions MCU fans will want answered when the first Marvel TV show makes its return for a milestone fifth season. -Eric Francisco
Love him or hate him, Frank Castle resonates with Marvel fans, and Jon Bernthal returns in his critically-acclaimed role as the Punisher. Pivoting his position from the hunted to the hunter, the unhinged anti-hero will turn the tables on those who did him wrong in what has to be Marvel's most violent 13 hours ever produced. (We'll know more when it's released at a date that's not yet been made public.) - Eric Francisco
TBD, but maybe October (Netflix)
22. Lore
Amazon first made a deal with Lore podcast creator Aaron Mahnke back in October 2016 and is now delivering on that deal a year later. Lore, based on Mahnke's smash-hit podcast, digs into the real-life events that have spawned some of our most terrifying legends and darkest nightmares. Lore looks to the past to reveal just how many of our beliefs are rooted in a strange truth. -Caitlin Busch
21. Neo Yokio
Jaden Smith stars in this ostentatious anime about opulence and millennial vapidness in an emerging technological dystopia. But he also happens to be a magistocratic demon hunter in a batshit crazy story with a star-studded cast all delivering the driest wit. -Corey Plante
20. Philip K. Dick's Electric Dreams
Already airing on BBC Channel 4 in the UK, this anthology series has been favorably compared to Black Mirror. But that's an insane comparison. This series will adapt 10 short stories written by sci-fi mastermind Philip K. Dick, who basically invented the dark sci-fi genre that Black Mirror subsides on. Via time-travel, it will seem like Black Mirror ripped off this show. - Ryan Britt
Sometime in November (Amazon Prime)
19. The Jellies
Tyler the Creator's new painfully hilarious Adult Swim animated sitcom tells the story of a family of jellyfish and their adopted human son. Yeah, it's just that weird and crazy, and its mature brand of humor is very tongue-in-cheek. -Corey Plante
18. Arrow
After five years of exploring Oliver Queen's origins, the new season of Arrow hits the ground running in a new chapter of the Green Arrow's superhero career. With Lian Yu behind him, Arrow is finally free to explore the rest of the expansive DC TV universe. -Eric Francisco
17. Black Clover
A young boy with no magical powers aspires to become the Wizard King, the strongest Magic Knight of Clover Kingdom. His rival is a prodigy with incredible magical power. If something about that premise sounds familiar, it's because Black Clover seems to be taking some major cues from shonen anime like Naruto while adding a few fun and refreshing twists to the formula along the way. -Alex Wong
16. Brooklyn Nine-Nine
The 99th precinct returns for its hilarious fifth season. Detective Jake Peralta (Andy Samberg) is in jail for a crime he didn't commit, and the rest of the gang have to work together to clear his name. Stacked with one of the most diverse casts currently on television, Brooklyn Nine-Nine is a genuinely funny, feel-good show that keeps on delivering. -Caitlin Busch
15. The Gifted
Logan is the bright star amidst a somewhat lackluster mutant lineup of shows and movies in recent memory, but The Gifted looks like it could change the X-Men slump by focusing on lesser-known mutants who still have really cool powers. If there's one thing diehard X-Men fans have to look forward to, it's this. -Corey Plante
14. Mindhunter
If the successes of Making a Murderer and The Keepers are anything to go by, Netflix viewers love true crime. Mindhunter isn't exactly true crime, but the dramatized version of the real story in which the FBI attempts to understand the minds of imprisoned serial killers in 1979 should scratch that same grim itch. -James Grebey
After saving the world and suffering a big loss in Season 2, Kara Danvers' Supergirl is back for more high-flying ass-kicking in Season 3. And everything indicates that she's done with this whole "secret identity" bit. -Caitlin Busch
12. Alias Grace
Based on Margaret Atwood's (The Handmaid's Tale) novel of the same name, Alias Grace follows the true story of housemaid and Irish immigrant Grace Marks (Sarah Gadon), who was — perhaps falsely — accused of murdering her employer, Thomas Kinnear. The fictional Dr. Simon Jordan (Edward Holcroft) joins Grace in Atwood's novel and the Netflix series to try and help untangle the mystery. Did Grace really commit the murder, or was she a victim of prejudice? -Caitlin Busch
11. Damnation
USA's The Sinner was secretly one of the best shows of the summer, but now the network is gearing up for fall with Season 3 of the acclaimed Mr. Robot and this new show, an intense period drama about a brutal class struggle conflict in 1930's Iowa. Eat the rich, y'all. -James Grebey
10. DC's Legends of Tomorrow
DC's C-list superheroes are back for a third season of time-traveling shenanigans. The Arrowverse's weirdest show is quite possibly its most fun, if only because really anything can happen on Legends of Tomorrow. And, unlike Arrow, this show is incapable of truly taking itself seriously, which leads to fun moments like a bunch of Roman legionnaires having a beach day in the premiere. -James Grebey
The Flash is easily the best superhero show airing on television, but its third season was plagued by too much gravity. (I might barf if I hear the word "Savitar" ever again.) Season 4 looks like it will return to more fun stories with a fully-evolved hero — which will be both new and familiar to fans like me who adored the back-half of Season 1 and the first half of Season 2. -Corey Plante
8. Ghosted
Adam Scott and Craig Robinson star in this new comedy that's part Parks and Recreation, part The Office, and a whole lot of Men in Black. A skeptic (Robinson) and a true believer (Scott) are recruited by an organization called The Bureau Underground to investigate "unexplained" activities. -Caitlin Busch
October 1 (Fox)
7. Mr. Robot
Hello, friend. The acclaimed paranoid thriller returns to the USA Network this fall, with Elliot accumulating more power as an influential hacker in the aftermath of E Corp's fall. Though the show's initial buzz has worn off since its breakout first season, Mr. Robot is still a strange, eerie force to reckon with in the current era of TV. -Eric Francisco
6. Marvel's Runaways
Bryan K. Vaughn's 2003 comic about a group of teens who discover that their parents are all supervillains remains one of the best thing's Marvel has ever put out. Ideally, the show will strike a balance between the darker Netflix heroes and Agents of S.H.E.I.L.D.'s continuity tangles, and Hulu will shell out enough money for Old Lace, the dinosaur, to be onscreen a decent amount. -James Grebey
5. Riverdale
Archie Comics have a reputation for being old-fashioned and wholesome, but the company is surprisingly progressive if you pay attention. That said, nobody could have expected the moody teen crime drama adaptation to be as buck wild as it ended up being — or as successful. Season 2 looks to be even more insane. -James Grebey
4. Black Mirror
Not since The Outer Limits was on the air has a science fiction show been so great at covering so much ground. And while Philip K. Dick's Electric Dreams may challenge Black Mirror for 21st Century dark sci-fi supremacy, the track record of this show, so far, is beyond excellent it's shocking. This new season looks the most unnerving and brilliant yet, which is saying something, considering one of the episodes looks like a Star Trek spoof crossed with a nightmare. -Ryan Britt
Sometime in November (Netflix)
The mysteries of the Upside Down will be plumbed, and there will certainly be zero justice for Barb. Whether Stranger Things will favor '80s nostalgia over actual storytelling doesn't really matter. We love these kids so much, and we can't wait to see Eleven in action again. There's something about this show that lacks any cynicism, making it a rare form of pure fun that seems like it came from an alternate dimension. -Ryan Britt
Between 2005 and 2017, there have been three very successful Star Trek movies. And yet, the return of Star Trek: Discovery already makes those movies look like posers. There's nothing wrong with the J.J. Abrams reboot universe, but the best format for Star Trek has always been television. Now, for the first time, Trek will be adopting a style of TV its only dabbled with before: serialized storytelling in which every episode counts. Will Discovery succeed at beaming the most successful sci-fi TV franchise into the era of prestige TV? As Starfleet captains sometimes say, "fortune favors the bold." -Ryan Britt.
September 24 (CBS All Access)
1. Search Party
The first season of TBS's Alia Shawkat-led comedy was a hilarious, stylish take on a very specific brand of Millennial ennui mixed with a Nancy Drew-style mystery. The finale, though, featured one of the darkest TV twists of the year. The sophomore season picks up right afterward. -James Grebey