Elon Musk and Bill Gates Have the Nerdiest Beef Over A.I.
It's just the future of humanity at stake.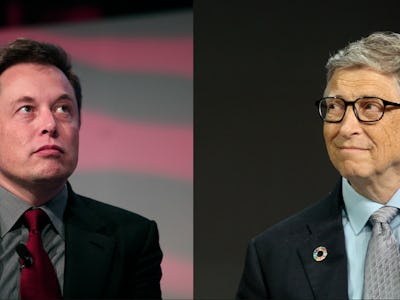 Getty Images
A vague hint of drama between vaguely human billionaires is always fun to watch. It's even juicier when the warring factions are aspiring Martian Elon Musk and Microsoft dad Bill Gates, who are arguing about robots, for some reason.
In a recent interview published in the Wall Street Journal, Gates told Microsoft CEO Satya Nadella that he and the SpaceX founder disagree on the potential threat A.I. could pose to humanity. Musk has previously expressed concern that super-smart future computers might reduce us to "house cats," or irrelevance. Frankly, I would love to be a house cat, though dog people — and apparently Elon Musk — might object to this vision for humanity's future.
That said, it seems Bill Gates is also on board with being a cat, or at the very least doesn't think there's any need to worry about A.I. going Skynet on us.
"The so-called control problem that Elon is worried about isn't something that people should feel is imminent," he told the Wall Street Journal. "This is a case where Elon and I disagree. We shouldn't panic about it. Nor should we blithely ignore the fact that eventually that problem could emerge."
In the past, both Gates and Musk have been pretty candid in sharing their thoughts regarding the potential future of A.I. But this response is a much cooler take from some of Gates' previous comments.
"I am in the camp that is concerned about super intelligence," Gates wrote in a Reddit AMA back in 2015. "First the machines will do a lot of jobs for us and not be super intelligent. That should be positive if we manage it well. A few decades after that though the intelligence is strong enough to be a concern. I agree with Elon Musk and some others on this and don't understand why some people are not concerned."
While it's a little too early to start raging about the machines, maybe we can all agree that replacing humans — with robots or cats — wouldn't be the worst thing to happen to the planet.
If you liked this article, check out this video on how A.I. could colonize space before humanity.