Bill Nye the Elevator Guy Is a Content Legend
Bill Nye is not only in on the joke, Bill Nye will repeat the joke with a dogged but endearing insistence.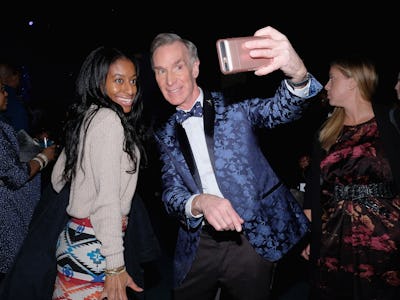 Getty Images / D Dipasupil
When a group of gyrating, whooping, swimwear-clad girls heard the doors of the elevator-turned-photo-booth in their Las Vegas hotel open, Bill Nye the Science Guy was the last person they expected to see, at least based on their reactions.
All of the girls freeze, and turn almost simultaneously. One gasps. "No!" yelps another. "Oh my god…" another manages to intone, as they dissolve into nervous laughter.
"Wow," comes the final verdict as Nye steps into the elevator and presses the button for his floor before turning towards his gaggle of admirers. He raises a hand in greeting before the video, a mere ten seconds long, cuts out.
According to 22-year-old Savanah Prosch, who posted the video, Nye was a pleasant person to share an elevator with. He was reportedly "super nice and polite" and even "asked if we wanted pictures," Prosch said to Storyful.
But not only was Nye nice to his fellow Vegas partygoers. You don't become the Science Guy by simply being nice. Nye is savvy. Nye might even be a marketing genius. Because in order to promote the 2017 International Astronautical Conference in Adelaide, Australia, Nye and a pair of young people appear to have recreated this viral incident for advertising purposes.
In the video, Nye enters the elevator where the pair are dancing and then quickly rattles off relevant information for the Congress's whereabouts.
It is clear that Bill Nye is a genius, not only in the realm of science, but also in marketing. A formidable combination indeed- Neil deGrasse Tyson is shaking in his boots.