Why 'The Dark Tower' Flopped, According to Its Biggest Expert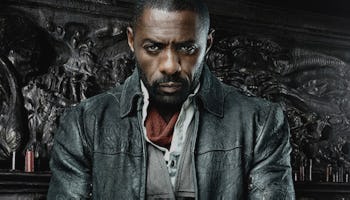 Sony Pictures
Easily one of the most disappointing movies of the year was The Dark Tower, the long-awaited adaptation of Stephen King's epic horror/western fantasy novels that span eight entire books. With the movie now behind him, King is still kind to the movie, but he is also more honest about why he thinks it didn't click like fans hoped.
In an interview published by Vulture, on Monday, King says the biggest hurdle was adapting a multi-book series into one PG-13 movie. "The major challenge was to do a film based on a series of books that's really long, about 3,000 pages," King says. "The other part of it was the decision to do a PG-13 feature adaptation of books that are extremely violent and deal with violent behavior in a fairly graphic way."
King is on to something. Perhaps the biggest offense of The Dark Tower was that it was a mildly generic action movie, whereas King's books are recognized as genre-bending masterpieces. Given its scale and prominence in fantasy literature, one would expect The Dark Tower to have as big an impact as Peter Jackson's Lord of the Rings. Unfortunately, The Dark Tower wound up being kind of okay, which is maybe worse than being an outright stinker.
King adds that he thinks screenwriter Akiva Goldsman did "a terrific job" and he still thinks The Dark Tower is "a pretty good movie." The author then adds he has hope for the upcoming TV series, which has been confirmed to take place in the film's continuity.
"The TV series they're developing now," King says "we'll see what happens with that. It would be like a complete reboot, so we'll just have to see."
Silver lining? At least It was pretty good.
The Dark Tower TV series is currently in development.