Marvel Fan-Favorite Character Might Be in 'Avengers: Infinity War'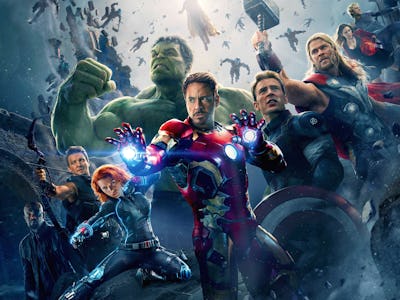 Marvel Studios
Though it already seems like every notable Marvel Cinematic Universe character is assembling for Infinity War, another fan favorite could be coming along for the ride.
On September 23, actress Hayley Atwell posted a photo of herself to Instagram with motion capture dots on her face, the kind she would need if she was playing an older (or younger) version of Peggy Carter in an upcoming Marvel film. Atwell first appeared as Peggy in Captain America: The First Avenger back in 2011. She returned for the film's two sequels, Winter Soldier and Civil War, the latter film in which she died in. Prior to that, she was the star of the much-loved but short-lived Agent Carter series, which was set in the 1940s.
The mo-cap dots could always be for an upcoming role, with Atwell herself taking to the photo's comments to explain that they're for her part as Evelyn, Christopher Robin's wife, in the live-action Winnie the Pooh film. However, unless she doubles as one of the characters in the Hundred Acre Wood at some point in the film, there doesn't seem to be much of a reason for her to be doing facial capture for it. It could very well be that she didn't realize how telling a photo of her with mo-cap dots would be. Plus, it wouldn't be inconceivable for Marvel to want to bring a fan-favorite character like Peggy back, and she met with Marvel Studios Co-President Louis D'Esposito for an unknown reason in July. Given the information that's been revealed about the film, it would also make a lot of sense for her to show up.
A September 15 casting call for Avengers: Infinity War seemingly revealed that the film would have a 1960s flashback, though, with the Time Stone (the Eye of Agamotto in Doctor Strange) in play, actual time travel may be involved.
No matter how Peggy makes an appearance, though, fans will no doubt be excited if she returns to the MCU.
Avengers: Infinity War will be released in the U.S. on May 4, 2018.
If you liked this article, check out this video of a real-life Iron Man suit.