Joke-Telling Sex Robot Hits Shelves, But It Has a Huge Price Tag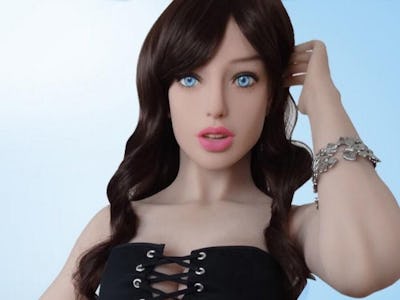 VibezAdultStore/Twitter
A sex robot with the ability to tell jokes and interact with people has gone on sale in the United Kingdom, and the company behind it wants to bring it to the United States. Samantha, developed by Spanish robotics firm Synthea Amatus, charges via USB and has an SD memory card in her head for software updates. But the robot, which went on sale in two British stores this month, does not come cheap — it has a price tag of £3,500 ($4,736).
"Samantha has different personalities, and she has a family mode where she will be able to give facts about various things and talk about philosophy," Tracey Whitmore, owner of Vibez Adult Boutique in Kent, told The Mirror. "She can tell jokes and she can't just accidentally go into sex mode."
The machine stands at 5 feet 5 inches, with a thermoplastic elastomer outer layer designed to feel like human skin. An array of 11 sensors respond to touch, and it's designed to alternate between three levels of sexuality depending on the mode suggested by the touch.
"The new doll is amazing," Arran Squire, a business partner at Synthea Amatus, tells the Daily Star. "The skin feels very realistic. The skeleton also has no noise when in motion. This is the best currently in the market in our opinion."
Samantha was developed by Dr. Sergi Santos, an electronic engineer who's been researching nanotechnology for the past decade. Santos spent years developing Samantha's "brain," a modular system designed for easy upgrades. Although she can understand English, German, and Spanish, she only replies in English for now. The company plans to add more languages in the coming weeks alongside other capabilities further down the line.
"The beauty of the algorithm is that in principle it has no limits," Santos told BBC.
The company claims that in its current form, Samantha will effectively learn from its owner. It will synchronize so it climaxes at the same time as its owner. The software will develop as the owner has a wider variety of sex with the robot, and the "brain" will store memories and perform analysis on its current state. Samantha will also require sleep in some instances.
The pair, who have sold 30 dolls so far, have big plans to go global. Santos has struck a deal with a Chinese sex doll factory that can produce at least 50 per week. They aim to secure deals in the United States and elsewhere, with the ultimate goal of becoming the world's largest sex robot company.
Don't miss: 5 Lifelike Robots That Take You Straight Into the Uncanny Valley
If you liked this article, check out this video of thought-controlled robots from MIT.