The Director of 2017's Best Horror Movie Making a Nazi-Hunting Show
'The Hunt' is all too relevant for 2017.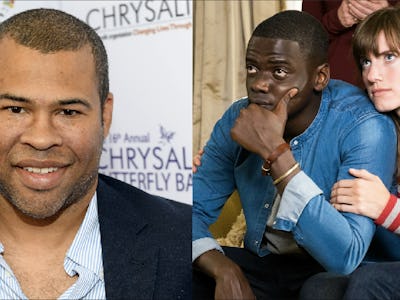 Getty Images, Blumhouse Productions
Jordan Peele, director of the smash-hit horror movie of 2017, Get Out, is developing another all-too-relevant project: a Nazi-hunting drama about the true story of the people who hunted down Nazis wanted for war crimes committed during World War II. The Hunt is not yet attached to a network, but buyers are reportedly scrambling to get their hands on it.
The Hollywood Reporter writes that the show is "Inspired by true events" and that it "follows a diverse band of Nazi hunters in 1970s America as they set out on a quest for revenge and justice — tracking and killing hundreds of Nazis who, with the unconscionable help of the U.S. government, escaped justice and embedded themselves in American society."
The Hunt will take place in the '70s, but a show about Nazi hunting feels all too relevant in 2017. From the events in Charlottesville, Virginia, to the popularity of Nazi-punching, Nazis have regained a disturbingly solid footing in the American psyche in the 21st century. And, according to THR, Peele's project starting making the rounds after those deadly protests.
Fans of Peele's past work have already chimed in on their excitement over the project. If the fantastically frightening relevance of Get Out is anything to go off of, The Hunt should be something to keep a close eye on.
The Hunt does not yet have a premiere date.