How A Rock Star Who's Been Dead For 24 Years Is Going On Tour
Frank Zappa's reunion tour will be more of a reunion between his image and the corporeal plane.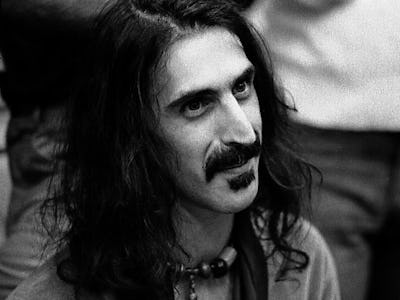 Flickr / jlacpo
The Zappa Family Trust announced Thursday that their patriarch, legendary musician Frank Zappa, will be performing on tour, no seance necessary.
Zappa, who died of prostate cancer in 1993, will grace the stage in hologram-form, allowing fans the opportunity to once again enjoy his musical stylings onstage in a "live" experience.
Zappa is not the first artist to receive the digital resurrection. A hologram of Tupac Shakur took the stage at 2012's Coachella Music Festival, sparking controversy and kicking off the trend. Michael Jackson's hologram "performed" at the 2014 Billboard Awards.
The "Back on the Road: The Hologram Tour" tour announcement listed a string of living musicians, including Stephen Vai, who would appear alongside the Zappa hologram: "When I spoke with them, they were excited at the prospect of performing alongside Frank once again and can't wait to give fans an unforgettable experience," said Ahmet Zappa, Frank Zappa's son and a co-trustee of the Zappa Family Trust.
And in July, Ronnie James Dio's estate announced the "Dio Returns!" tour, which will take the hologram version of Dio, which first appeared at a German metal festival in 2016, on the road for at least 80 different performances.
The company behind Dio's tour, Eyellusion, is the same one working with Zappa's estate. Jeff Pezzuti, CEO of Eyellusion, said in a 2016 interview that his production company wanted to zero in on creating a concert environment. "We've kind of lasered our focus instead of just doing a hologram, we're bringing what I call the live music experience," Pezzuti said in an interview with Billboard. "Live bands or concert sound, lights, production, pyro where we can do it. Basically allowing the fans to walk into whatever venue we use and feel like they just walked out of a concert, not a movie."
Technology has reached the point where it is possible to recreate a semblance of someone who has died, from an amalgamation of video footage, online exchanges, and voice recordings. The market for this content, at least in the realm of music is clear; classic rock fans who opine the fact that they were born in the wrong generation can now get a taste of what The Beatles sounded like before the group was halved, for instance. Content created can now be used indefinitely, and the pull of nostalgia means that people are likely to pony up the money to sate their hunger for the good old days.
But what does it say about us, that we demand that our favorite artists entertain us from beyond the grave? Will the Back On Road: The Hologram Tour be comparable to the Frank Zappa experience of yore? Guess you'll have to buy a ticket and find out.