We'll Finally See This Famous 'Star Wars' Planet in 'Han Solo'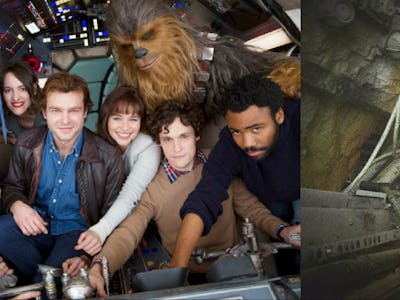 Lucasfilm, Twitter/Ron Howard
According to Han Solo himself, the Millennium Falcon is "the ship that made the Kessel Run in less than twelve parsecs." And, Star Wars fans will get to see that famed run in the upcoming as-yet-unnamed Han Solo standalone film.
What Happened
Han Solo movie director Ron Howard has been tweeting hints about what to expect from the film since he took over the gig. The latest one, posted on Wednesday, is of a dark mine shaft accompanied by a caption that just reads "Spicey?"
What it Means
The spice mines of Kessel — famed for the Kessel Run that Han Solo's never been able to stop talking about — have eluded Star Wars fans since they were first brought up in Star Wars: A New Hope.
But it seem we'll finally see Kessel and the Millennium Falcon's celebrated Kessel Run in the Han Solo movie. Thank the maker for that — the details of the run are a bit murky in-universe (probably an intentional move on Han's part, to keep the mystery alive as well as the interest).
What's Next
Be on the lookout for Kessel in the upcoming Han Solo standalone.
The untitled Han Solo Star Wars standalone film is expected to premiere in theaters on May 25, 2018.
If you liked this article, check out this video of all the guesses and estimations in Star Wars. (It's a lot.)