Here's When the 'Infinity War' Trailer Will Probably Drop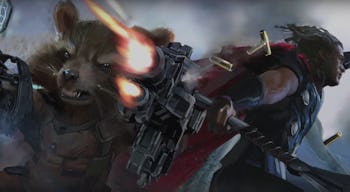 Getty Images / Jesse Grant
Eight months stand between Marvel fans right and the release of Avengers: Infinity War in theaters. So, when the heck will that San Diego Comic-Con trailer will finally be released for everyone?.
The studio has previously screened the trailer exclusively to the hardcore faithful in attendance at San Diego Comic-Con in July. But, since then, virtually everyone else in the world has had to make do with bootleg videos. Fans are eager to see Spider-Man's snazzy new costume in all its glory, and who doesn't want to see the Guardians of the Galaxy team with the Avengers in full HD? At some point, Marvel will have to unleash the trailer for Infinity War — but when?
Based on a little Marvel tea-leaf reading, here are five solid guesses as to when MCU fans can expect the trailer for what has to be the biggest movie of 2018.
1. New York Comic-Con
Marvel Studios hasn't had a significant presence at New York Comic-Con since inviting the cast of The Avengers in 2011. The television side normally dominates the east coast convention — this year, the cast and crew of Agents of S.H.I.E.L.D. will be there to promote its upcoming fifth season — but with Infinity War being what it is, maybe Marvel will surprise everyone at the largest convention located right in its own neighborhood.
2. With Thor: Ragnarok
Thor: Ragnarok hasn't even come out yet, and already it's got sky-high hype based on its badass trailers. Taika Waitit's eccentric take on Thor's universe will certainly warm up the colder fall/winter season, and early November just isn't a bad time to start promoting a movie that will release just five months later. By November, the clock is ticking.
3. On Thanksgiving
Any of the three big winter holidays are a good time for movie marketing. With all those families and friends together in one place — and on their phones — the number of eyeballs on the internet is a goldmine for "viral content." So this season, set a Google alert while you're cooking that turkey.
4. With Star Wars: The Last Jedi
In spite of Disney's ownership of Marvel and Star Wars, the juggernaut studio has kept the two brands pretty far apart. Marvel publishes Star Wars comics, and… That's it. But maybe Disney will change its tune when it comes to advertising its blockbuster movies.
Perhaps the silence on the Infinity War front is so no one is distracted when Star Wars: The Last Jedi hits theaters in mid-December. Post-Jedi is definitely a good time to ramp up that Avengers hype.
5. Christmas
See: Thanksgiving. When your little nephews and nieces are playing with their new toys and your cousins are ragequitting Destiny 2, it's the perfect time for Marvel to gather every family for a sweet three minutes of Infinity War action.