Mexico City Earthquake: 10 Videos Show the 7.1 Magnitude Jolt
It's been less than two weeks since a quake last hit the city.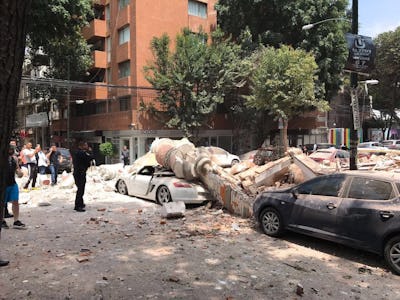 Twitter
On Tuesday, a powerful 7.1-magnitude earthquake shook Mexico City — less than two weeks after an 8.2 magnitude quake devastated the city.
Several local news outlets have reported that multiple deaths have occurred as a result of the tremor. Videos circulating on social media showed people running from buildings as they crumbled and collapsed. As of 5:10 p.m. EST, officials estimated that at least 44 people had died during the quake.
The epicenter of the earthquake was located in the Puebla region, about 93 miles outside of Mexico City, according to the U.S. Geological Survey.
The earthquake took place on the anniversary of an 8.0-magnitude earthquake in 1985 that devastated the region, the USGS said.
Here are some of the videos out of Mexico in the aftermath of the earthquake.
Javier Lozano, a Mexican politician based in Puebla, shared this video with a simple caption: "Terrible."
Here, a bird's eye view of Mexico City shows smoke and dust rising from buildings crumbling throughout the city.
The earthquake resulted in significant damage to the National Employment Service office, as seen in this video.
Staff at Telemundo, based in Mexico City, were forced to evacuate their newsroom when the earthquake hit.
Mauricio Cantu, a representative in the Texas legislature, posted a video in which a loud explosion can be heard.
This video showed an entire block of collapsed buildings in Mexico City as a result of the earthquake.
From a resort in Mexico City, English-speaking tourists felt the brunt of the earthquake.
A building was captured completely collapsing, sending people in the surrounding area running.
A group inside a building during the earthquake ran outside to avoid being trapped inside if the structure collapsed.
Jorge Guajardo, the former Mexican ambassador to China, posted a video of the "panic and frustration" the earthquake caused.