Luke and Leia Visit New 'Last Jedi' Planet in Prequel Comic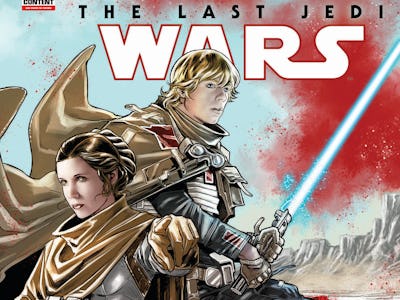 Marvel Entertainment
Turns out, the mysterious planet Crait was visited by Luke Skywalker and Princess Leia decades before the Resistance battled there in Star Wars: The Last Jedi. A new prequel comic from Marvel will give the newest Star Wars planet a backstory set during the era of the Rebellion.
What Happened:
Marvel recently announced Star Wars: The Last Jedi — Storms of Crait #1, a one-shot comic coming this December from podcasters and veteran TV writers Ben Acker and Ben Blacker (Star Wars: Join the Resistance) and artist Mike Mayhew (Marvel's Star Wars). The comic will reveal an unexplored chapter of the original trilogy in which Luke and Leia arrive on Crait in hopes to establish a new base for the Rebel Alliance.
What It Means:
Star Wars fans hungry for more The Last Jedi will be in luck with the new comic. Crait, an entirely new planet that will be a key setting for the new film, will have a more important history than fans have previously known.
"It's way out there. It's very remote. It's uncharted," Rian Johnson previously told Entertainment Weekly about Crait. "It's a mineral planet and so there are mines on it." Crait, whose strategic placement could benefit either the Rebels or the Empire, is distinct for its pale white salt dusted over red minerals. And as the comic will reveal, Crait is also known for having an abandoned rebel base. "It ends up playing a key role in the movie," Johnson said.
What's Next:
Star Wars: The Last Jedi will premiere in theaters on December 15, with the comic coming just a few weeks after. Check out the cover of Star Wars: The Last Jedi — Storms of Crait below.
Star Wars: The Last Jedi — Storms of Crait will be released on December 27.