How to Stream the Emmys Tonight
And all the other ways to watch TV's biggest awards show.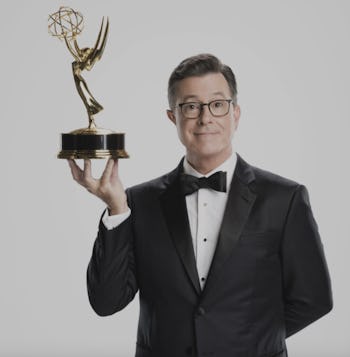 CBS
The Emmys are happening in L.A. tonight and there are a couple of ways to tune in if you don't have a good, old-fashioned boob tube.
It's probably not a show you're going to want to miss either, with Stranger Things, Westworld and The Handmaid's Tale all vying to be named the best in TV.
This will also be Stephen Colbert's first time hosting the awards show. Given Colbert's relentless take-down of the Trump administration on his own show, there's a solid chance that we'll get some much-needed comedic catharsis over the three-hour special. Plus, this show is live, so anything can happen. Remember the Oscars?
Watching the Emmys on TV — or a browser
The Emmys are airing on CBS, with the red carpet starting at 4:30 p.m. Eastern time. The awards show itself kicks of at 8 p.m. Check your local TV listings to find your CBS channel
If you have a cable subscription, you should also be able to log in on a browser.
Stream the Emmys via All Access
CBS All-Access, the company's streaming service, will have the show available live for iPhone, android, iPad, Apple TV, Chromecast, Fire TV, Windows 10, Roku, PS4 and Xbox. If you want to get it now, there's a free trial that works for seven days, and then it's $5.99 a month with limited commercials, and $9.99 a month for commercial-free.
Youtube TV
If you have YouTube TV, you'll also be able to stream the event live. If you are interested in getting YouTube TV and it's available in your location, it's $35 dollars a month, but you can also try it for free.