The Cloud Will Save Democracy
The Iowa presidential caucus turns to Microsoft for a new way to count votes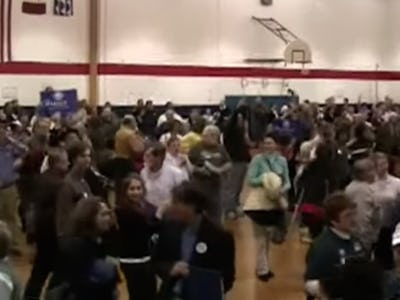 YouTube
The Iowa caucus is a swirling vortex of chaos. Hundreds of heartland Americans crammed into high school gymnasiums and rec centers grasping at each other like victims in a zombie film, hoping to swell their numbers. No wonder it took more than two weeks to officially declare Rick Santorum the winner last primary season. But Microsoft thinks they can bring order with a new set of apps.
Reps for both the Democrat and Republican parties announced the move to high tech voting Friday during a conference in the state capital, Des Moines. The new tech will use Microsoft's Azure cloud platform in a partnership with InterKnowlogy. As PC World reports, the latter is the same company behind CNN's Magic Wall. 
Nobody wants to come out and say that the change was motivated by the confusion of 2012, or the confusion in Florida in 2000, or Ohio in 2004. Still, the hope is that with precinct captains having a new set of apps to get results directly the party headquarters, trouble spots in the process will be obvious sooner and votes will get counted quicker. Plus, a new site will let the public see the votes come in, allowing you to track conspiracy theories in real time.