How 'American Assassin' Sets Up the Next Big Action Franchise
Will Vince Flynn's Mitch Rapp book series get a Hollywood franchise?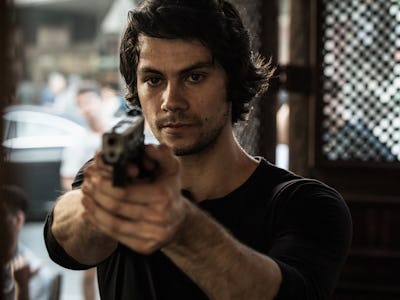 CBS Films, Lionsgate
The latest book-to-movie action thriller, American Assassin, tells an origin story of epic proportions, potentially setting up its terrorist-hunting protagonist for a long and prosperous career. Whether or not there are intentions to turn Dylan O'Brien's role as CIA operative Mitch Rapp into a long-running action franchise, the end of the movie certainly sets it up that way.
You might not know it, but American Assassin is based on a series of novels by Vince Flynn and, specifically, on Rapp's origin story of the same name. Flynn published that origin story, American Assassin (2010), after having already written 12 other stories about Rapp's career in the CIA. After his death in 2013, author Kyle Mills picked up the torch, publishing the 16th book in the Mitch Rapp series earlier this month.
So, if the film succeeds at the box office, there are plenty more stories to be told.
American Assassin ends with O'Brien's Rapp in Dubai, United Arab Emirates, supposedly taking a break after the events of the film's past 2 hours. But while CIA Deputy Director Irene Kennedy (Sanaa Lathan) and Stan Hurley (Michael Keaton) discuss what's next for the team and wonder at where Rapp might be, they overhear news of a corrupt politician arriving in Dubai.
Audiences are given a moment to process this information before the politician in question enters an elevator at a hotel in Dubai. Rapp is already in the elevator.
He smiles, nods at the man, and the screen goes black.
The movie changes things up quite a bit from Flynn's original novel; Mitch Rapp is no longer a college sports star and he suddenly has a brand new fianceé who's killed at the beginning of the film to spur him into action. Some of the same traumas of his past (dead parents, etc.) are addressed in the film, but they're brief and relegated to background status.
But the point of Flynn's American Assassin is still present: Here's Mitch Rapp's origin story; he's terrifyingly good at his job, and he's going to do amazing things in his field. At the time of Flynn's death, 13 Mitch Rapp novels had been published. Mills' recently released Enemy of the State is number 16.
The content is there. The question is whether or not the movie will do well enough at the box office to merit a sequel.
American Assassin grossed $915,000 on Thursday night, but there is some concern that box office hit and critical darling It will hurt American Assassin's chances for any sort of blowout success.
Read Inverse's review of American Assassin.
American Assassin is now playing in theaters.